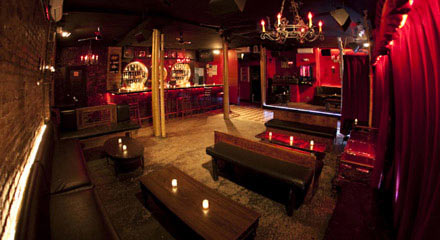 With music there will always be hype.

So you may have already heard about a bar opening Friday in the East Village owned by a few bands and their managers called Angels and Kings. We got past the door (and the name) to tell you what you can expect.

Launched in part as a hangout for the members of Fall Out Boy, The Academy Is... and Gym Class Heroes, Angels and Kings—or AK-47, as the kids are calling it—is your chance to sip a cheap bottle of beer and chat up attractive TRL aficionadas. The signature touches of the large and divey one-room bar are framed mug shots of the likes of Johnny Cash, Jimi Hendrix, Sid Vicious, Lil' Kim and Frank Sinatra (thank you, public records). Also mounted on the wall: a jukebox so you can play songs from the guys who own the place—or better yet, the ones featured in photographs.

From 5 to 8 p.m., bartender Dan Ryan (Bowery Ballroom, Mercury Lounge) will serve up two-for-one drinks (including a solid Dark and Stormy). As for entertainment, you won't lack for it here: The bar will host impromptu acoustic shows; "Starlette Sundays," a gathering of NYC lesbians (and you thought you had little interest in Pete Wentz); karaoke battles and a Sinatra night the first Monday of every month.

Old Blue Eyes and Gym Class Heroes—together at last.