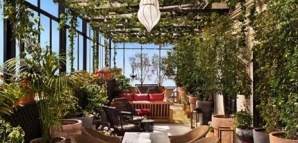 You may or may not have heard—there's a new girl in town.
And by girl, we mean spot. And by spot, we mean private members-only rooftop lounge, opening this week. In case you haven't made her acquaintance, it's the new
Gramercy Park Hotel Private Roof Club and Garden
. Although she's still gun-shy for press at this stage, we bring you a sneak peek: She's a little gem of a beauty, but will be a tough nut to crack.
To reach her, take the wood-paneled elevator to the top of the Gramercy. When the doors slide open, you'll find yourself in a rooftop garden oasis with old school wicker lawn furniture and enough green to announce that it's spring (we've heard a rumor that it is)—ivy climbing the trellises, tulips and orange trees budding everywhere and (of course) a rose bush or two.
Inside, a few thoughtfully scattered lounges, plushly fitted with velvet chaises, fireplaces and a lightbulb-forested ceiling, will no doubt host many a casual conversation between, say, Sean Penn and Tina Brown on the merits of transit strikes. Two bars will keep spirits flowing from early opening (6:30 a.m., for those who like to begin their lounging at the crack of dawn) to early closing (things are expected to wind down around midnight). It's a smoother, more relaxed counterpart to its
edgier sibling 16 flights below
.
Invited members can expect to see invitations trickling in during the next month (or you can try cozying up to co-owner and nightlife guru Nur Khan). But rest assured, you can always partake of this little Roof Club via private events: May we suggest private dinners in the intimate dining room, alongside an art installation of a time-worn medicine cabinet (Vicodin, anyone?).
And maybe we'll see you downstairs afterward.