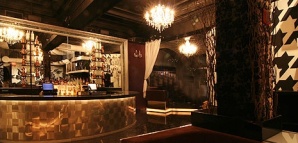 You love fashion.
OK, that's not true. What we mean is, you love models. And to serendipitously bump into them (and find out you have a lot in common), it helps to head where they may congregate. One idea:
Runway
.
Opening tonight with a bash hosted by Ashlee Simpson and May Andersen, Runway is a fashion-themed club (from owners Greg Barrias and Rich Messina) where the catwalk crowd can network, mingle and party (you know, in the same way plumbers want to kick back after a hard day's labor at a bar called Pipes). Fashion industry cues start in the foyer, where one wall is covered with model comp cards (headshots to you and us). In the main room, there's a mural of Twiggy from back in her heyday. And three small steps lead you up to the space's signature piece: a 17-foot backlit runway, which will be used for vamping, dancing and all around model-induced carousing.
And, because we know how you value privacy, you and your crew may choose to enter through a private side door, where you can take the adjacent spiral staircase up to a DJ loft overlooking the club. The cleverly devised space seats up to 10 guests comfortably.
Which means there's room for you, Adriana,
Izabel
, Heidi, Tyra, Naomi
and
Gisele.