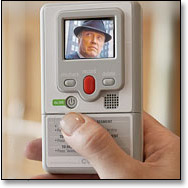 It's the kind of night that never happens...Your friends ditch out while you stick around the dive bar talking to that girl. She invites you to a loft party in Tribeca filled with models—suddenly you're shooting Cuervo with DeNiro and playing "pajama beer pong" with Christopher Walken and the Olsen twins.
Problem: the next day (shockingly) nobody believes you.
Well, now you can snag a disposable video camera from CVS and preserve your nights for posterity.
Just released, this isn't the answer to your digital video prayers, but it's close—pocket friendly (the size of a regular disposable camera), light, easy to navigate...and at the price of two drinks, you won't care if you spill one on it.
It's no-frills: It only holds 20 minutes of footage, and playback and delete are limited to the last shot. It also has no video out-ports, so you have to take it to CVS; within an hour they'll give you back a DVD with TV quality resolution (when shot in good light) and decent sound for nearby action.
They'll keep the camera, but you'll have the proof.