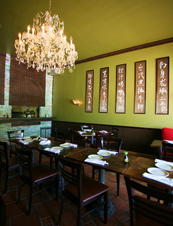 Reinvention is the key to success.
If it works for Madonna, there's no reason it can't work for your average super-talented Miami chef.
Which is why you'll be pleased to know that Mr. Chu—yes,
the
Mr. Chu, of the recently shuttered dim sum spot in South Beach—has relocated his woks farther south and is set to open
Chu's Taiwan Kitchen and Bar
tonight in Coral Gables.
Don't expect the classic dim sum carts and Hong Kong–style cuisine that Chu was famous for on the beach. For this incarnation he's getting back to his Taiwanese roots and incorporating some Japanese influences, but all you really need to know is that it'll be a place you'll be able to do some romancing over some real Asian food.
Speaking of which, if your date is more of the reserved type, cozy up to a table by the large windows overlooking Ponce for quiet conversation over dishes like Chinese broccoli in oyster sauce and fried bean curd stuffed with pork and shrimp. 
But if you two are up for something a little crazier, sidle up to the bar that lines the open kitchen, put out a standing order to keep the Kirin beers coming, and challenge the chef to whip up something you might find at a Taipei food stall.
Don't call it a comeback…