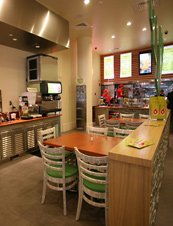 Your nights are filled with
exotic clubs
and
shrines to haute cuisine
.
But many of your days require something a little more…utilitarian. Yet still festive.
Introducing
Chilorio's
, a fast, cheap and easy new Mexican joint in Coral Gables, open now.
Think of this spot as a Chipotle restaurant with more flair, more options and (most important) more booze. All bright and cheerful, this flagship location of a soon-to-be-expanding chain feels like something you might find in an affluent Mexico City suburb, complete with a huge flat-screen blaring South American soccer games and wooden chairs printed with Spanish newspapers.
The spot is perfect for a quick lunch or a post-work, pre-going-out snack of lobster tacos with white lime rice and marinated cactus. All the tortillas are made in-house, there are 12 kinds of salsa, and the place is pretty proud of the fact that they don't own a fryer.
You can also look forward to considerate service, like the way they offer to
michelada
your Corona, which essentially means turning it into a Bloody Beer.
It's the thought that counts.