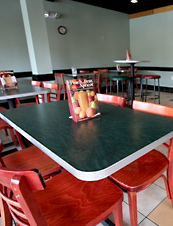 Some things were meant to go together. Red and Corvettes. Scarlett Johansson and V-necks. Red Corvettes
and
Scarlett Johansson.
Then there are the more peculiar pairings that somehow create harmony. Like…smoothies and grilled meat.
You'll see what we mean when you check out
One Sumo
, a quirky neighborhood shakes-and-teriyaki joint, now open on the Upper East Side.
Tucked inside the Shops at Belle Meade, think of this as what you'd get if you combined Jamba Juice with an organic bento-box place and added a dose of family-owned charm.
You'll want to stop by before heading to the gym for a pre-workout blueberry shake packed with energy boosters, or pop in afterward for a celebratory fruit blast of
Mango Tango
. While you're there, you can sample a few organic steaks (grilled to perfection on the hibachi) and maybe a nourishing udon noodle soup.
We admit it's not the most intuitive pairing in the world, but we think you'll agree the flavors seem to bring the best out of each other.
Now if you could just find a nice nutrition store/wine shop…