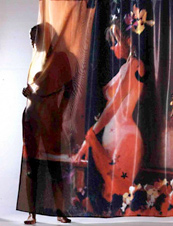 Your cell phone. Your laptop. Your iPod. You have more digital images than you have places to display them. A digital photo frame could be one solution, but you've been holding out for something lower-tech. And waterproof.
Allow us to suggest a visit to
PhotoShowerCurtain.com
, a new splash-friendly way to display your favorite digital masterpieces.
The process is mind-blowingly simple. Order one of two curtain sizes (one for tubs and one for showers) and send them an image that you'd like to see every time you're ready to strip down and sanitize your 2000 body parts (data supplied by Lever). Images are transferred to the fabric via extreme heat and pressure, fusing the ink to the fabric at a level so molecular, you won't have to worry about your picture going Salvador Dali after a few weeks.
And what you send is totally up to you: a photo of your lovable brindle boxer, Tiger; that amazing beach sunset you captured in Aruba; or a friend that you've always wanted to shower with, or used to shower with before her boyfriend got upset.
Some guys can be so sensitive.