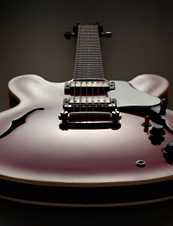 It happens.
You meet someone, fall in love, make your move, fool around, make sweet music together. But at some point, you're ready to move on...
As you suspected: we're talking about guitars.
Introducing
Guitar Affair
, now helping you love—and, just as importantly, leave—some of the hottest, rarest guitars around.
It's basically the Netflix of six-strings. Put down a nominal membership fee, and you're eligible to rent everything from the timeless
Rickenbacker 360
(a 12-string used by George Harrison) to the wack-ass
Gretsch Billy Bo
(an update on Bo Diddley's legendary box-shaped axe, designed by ZZ Top's Billy Gibbons) to our favorite: the highly subtle
Sandoval Dot V
, a polka-dotted flying V played by Randy Rhoads. (BYO bat-eating lead singer.)
And if you can't find, say, that discreet double-necked beast that Jimmy Page once tickled, just ask and they'll try to track one down.
Once your sweet piece arrives—locked up in an indestructible CaseXtreme shipping container, of course—you can hold onto it long enough to cut an album, go on tour or just really annoy your neighbors. And if you fall in love—or destroy it while performing your Pete Townshend windmill impression—you can buy it.
Now, to find a source for renting groupies...