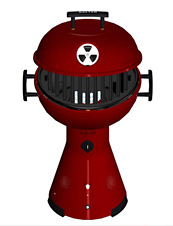 It would be difficult to improve on something as beautiful as cooking over an open flame.
But we're ready to give it a try.
Introducing the
Gastar miGrill
tabletop gas grill with built-in speakers, a modern-day miracle that provides both gastronomic and aural pleasure, and may be the one device you need more than any other this weekend.
Think of the Gastar as a 21st-century boom box that also sears meat. It has a docking port for both iPods and most MP3 players, so while you're waiting for that 16-ounce rib eye or slab of baby back ribs to reach its lightly charred perfection (courtesy of an impressive 8500 BTUs), you can sit back and enjoy your latest iTunes downloads from two powerful speakers at the grill base.
We imagine you'll be tempted to start off your playlist with The Prodigy's "Firestarter," then segue to something a little more lounge-y, like the Doors' "Light My Fire." Or you could just set the grill to shuffle.
Just don't shake it.