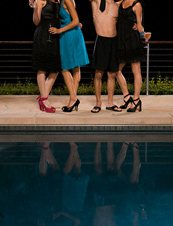 Brunch is more than a meal.
It's a state of mind. We know you get that. Allow us, then, to expand your brunch universe.
Now, we don't want to take anything away from
your typical brunch routine—consuming champagne and oysters with reckless abandon is staying. We just want to add a little water, a gentle breeze and some tanned skin. And we're thinking about keeping that going for, oh…maybe eight hours…in the Hamptons.
 
Consider this notice that the good people behind the brunch insanity at Merkato 55 have set up shop in the Hamptons with an all-day pool party. And we've seen what these people can do, so you'll probably want to swing by the new Day & Night Restaurant Beach Club at The Capri Hotel, opening this weekend for the season.

Here's how to envision it: a peaceful, sandy expanse, a pool filled with floating beach balls, waiters in white polos pushing around carts of rosé, a smattering of cabanas, trays full of spicy bloody marys, oversized sunglasses, plenty of Ralph Lauren (the chinos and, perhaps, the man), champagne bottles (complete with obligatory sparklers), the buzz of inebriation begins to spread, an eruption of dancing in the cabanas, Lydia Hearst falls in the swimming pool, but not before an afternoon grill with ribs appears on the scene.

Before you know it, it's 7pm and time to move on for some nightlife.
 
Which might start tomorrow around 11am.