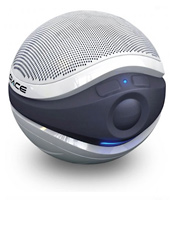 Some occasions call for the sounds of silence.
Memorial Day weekend is not one of them.
Instead, treat you and your cookout cohorts to some poolside mood music with the
Aqua Sounder Floating Speaker
, an awe-inspiring waterproof gadget that lets you take your tunes for a swim.
Imagine, if you will, an evening in the pool (or maybe the hot tub) with a few of your closest friends. You're in need of some aural pleasure—Al Green, or if you're feeling freaky, a little Rick James. You could hope the moment will wait while you hop out and splash water all over your iPod. Or you could wade over to this buoyant gizmo—slightly smaller than a volleyball—and crank it up.
Inside you'll find a weatherproof speaker, which broadcasts tunes from your iPod, safely nestled up to 150 feet away in the included transmitter. The battery should last about six hours—which, if you're sweating away in a hot tub, is about five and a half more than you really need. And because mood music is no good without mood lighting, they've even packed two LED lights inside. Finally, your chance to create the perfect light show to complement "Awesome Seduction Playlist #12."
You can leave the
Jaws
theme off that one, by the way.