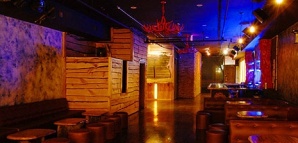 The bar is your sanctuary from work. We get that.

But sometimes, when that bar turns into a club and that club turns into an over-cologned warehouse, you need a sanctuary from the sanctuary.

Enter: Retreat.

Opening Thursday in the Flatiron district, Retreat is designed to be your idyllic getaway from a hectic night in clubland. A funkier version of the kind of lodge you'd find in the Catskills, Patagonia or Dumb & Dumber, Retreat uses nearly two dozen types of wood—including willow, birch, Indonesian ebony and Italian Carpathian elm—to hammer home the rustic theme. (Even the bathrooms are wallpapered to resemble a South American forest.) But just to make sure all that woodsy decor doesn't have you sawing logs (apologies), the laid-back vibe is injected with life via waitresses in sexy cashmere outfits and lipstick-red chandeliers made from deer antlers. (Relax, PETA; they're not real.)

Whether you're throwing a private party or just stopping by on a random night, once inside you'll want to head past the fireplaces and animal horns to the elevated VIP lounge in back. From there, you can rest your cocktail on an Oregonian red oak table, soak up the R&B spinning in the pine treehouse/DJ booth and unwind with the timber.

It's official: Wood is the new steel.