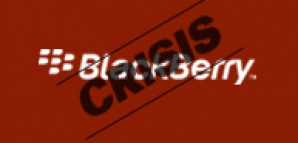 We interrupt your BrickBreaker play for this UD Special Report.
As you may have heard, if a company called
NTP
gets its way, your Blackberry gets the kibosh.
Don't panic. Here is what you need to know:
A lawsuit pending in a Virginia federal court pits
NTP
, a patent holding company, against
Research in Motion
(
RIM
), the company that makes your Berry go hum.
NTP
, claiming
RIM
is using technology they do not own, has filed an injunction asking the courts to block
RIM
from continuing to use the technology. Basically, if
NTP
doesn't start receiving fat checks from
RIM
immediately, your brand new
8700c
could go dark in January.
UD BOTTOM LINE

Last Friday, there was progress in settlement talks (on the table:
NTP
getting approximately 5% of
RIM
profits), however there's no agreement yet. Also,
RIM
has a backup system standing by, but insiders have said it's a far cry from the real deal.
If you work for a large company, your IT department is running point on this one and you can stand down. If not, perhaps it's time to slip into something a little more luxe anyway, such as the
Treo 700
or Nokia's new monster, the
E61
.
This has been a
UD Special Report
.
Resume 'Breaker play.