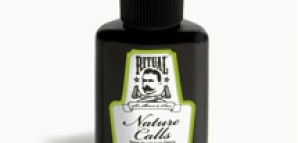 From stooges to amigos to manages, things that come in threes have always spoken straight to your heart.

The same goes for friends and coworkers Scott McEwen and Ty Lifeset, whose new Ritual product line was born out of deference to the morning "Triple-S" routine with which all men are familiar—the sh*t, shower and shave.

Before you head for the door, know that Ritual is committed to making your morning trifecta the best it can be. The kit covers the basics: an all-in-one shower wash (because real men don't know the difference between face wash and shampoo), and a shaving cream and an after-shave gel (both containing the numbing anti-irritant Lidocaine). But the real tour de force addresses the first S—Nature Calls is a planty-smelling toilet deodorizer. A few drops before you get down to business promises that no trace is left behind (your guests can thank us later).

To top it off, the products are housed in a wooden crate, and the masculine, barbershop-meets-military logo branded on the front draws everyone's eye to the fact that you're rugged but well-maintained.

You've never looked or smelled prettier.