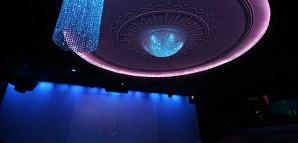 Pastis will always be Pastis, and
Buddakan
will always be a French aristocrat's Chinese palace. But once in a while a place will come along that will brook no description.
Take
Arena
, opening this Thursday.
Built out of a classic 1923 theater next to Bryant Park, the fully-customizable Arena offers its patrons a "blank canvas" on which to paint their party masterpieces.
Once in control, anything goes. You can finally throw that jungle-themed toga party you've always wanted by turning all of Arena's 200,000 LEDs to rainforest green while the massive 20X10 screens lining the walls display a scene straight out of Lost.
Excessive? Perhaps, but if you've been hankering to throw your 30th in a venue where you can plaster images of your face on a digital step-and-repeat and have dinner for 100 of your closest friends around an illuminated catwalk, you've found your spot. You can also request to have the outside of the club washed in any color, which means you can finally get your venue to match your peach-colored boxer briefs—because the other way around is just, how shall we say, amateur.
If you're more of a consumer than a producer of parties, you may just want to make Arena a stop on your rounds on the weekends (Thursdays are the famed "Kino 41" art display parties) and you'll hopefully never see the same scene twice.
Maybe New York nightlife isn't over after all.