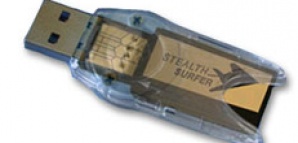 There's no question that the Internet is a virtual Eden, but forgetting to clear your browser history can make it all go south faster than you can say "minimize." To make things worse, the sociological research excuse for those "mysterious" illicit cookies on your hard drive hasn't worked in years.

It's time to innovate.

Meet the StealthSurfer, which is going to make your online activities a little more anonymous and the Internet a lot more enjoyable. This tiny USB device, shaped like a pen drive, plugs into your PC and supplies its own browser so that you can frolic about on the Internet without any of your steps—or passwords, or codes—being recorded onto your hard drive (or seen by wi-fi snoops). You can even use the included secure email program to send and receive messages, which will go undetected by your computer itself. Every cookie, history, and cache file is stored on the StealthSurfer, which you unplug and take with you when you're finished.

Not just for recreational surfers, this trusty little device is also great for those with dual identities, hardcore financial types with lots of bank account passwords, and the generally paranoid (or seriously freaky). And if your StealthSurfer falls into unwanted hands? Password protection maintains your data's security.

Yet again, proof that necessity and invention are forever linked.