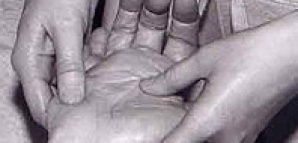 You love your
new BlackBerry
like a hand-held brother.
But all those fire-extinguishing emails you send from it can leave your thumbs aching like you just spent a chopsticks-heavy weekend at
Nobu
. Thankfully, there's a remedy: PDA-specific massages at Graceful Services spa.
New for 2007, Graceful's
"BlackBerry Thumb"
massage eases the tension in your button-punching opposables by attacking the problem at its root: the brachial plexus, a set of nerves that runs from your neck to your hands. (Unlike your fingers, your thumbs aren't cut out for typing "btw" sixty times a day; too much Berrying can pinch a nerve or lead to the painful and unattractive "Tech Neck" syndrome.) Graceful's team of masseuses administers a combination of Swedish, Shiatsu and Chinese massage on your neck, chest, shoulders, arms and hands to relieve nerve pressure, reduce thumb-joint inflammation and soothe hand-muscle soreness.
But the treatment of information-age afflictions doesn't stop there. GS also offers a deep-cleansing facial designed specifically for the urbanite who keeps a filthy cell phone pressed to his face for multiple hours each day (i.e., you). The "phone facial" relaxes your jaw muscles and clears away accumulated bacteria to unclog your pores and improve your complexion.
A fresh face and healthy thumbs. Now that's what we call a happy ending.