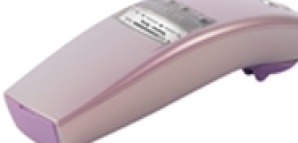 There's something to be said for hitting the right notes.

Yes, Beethoven was talented, but his Symphony No. 5 couldn't exactly get a woman to, well, reach that higher octave. Until maybe now.

Sure, you've pulled out that steadily buzzing wingman once in a while to keep things interesting. But the Je Joue (French for "I play") programmable vibrator takes bedtime play to a new level by letting you be composer and conductor.

The sleek, high-end gadget has a digital memory which you can program to perform a variety of movements and vibrations, like up and down, side to side, around in circles—you get the idea.

Je Joue comes with some pre-programmed "grooves," but relying on those is for the weak, lazy and creatively challenged. Dim the lights, boot up your computer and channel your inner Barry White as you use the included PleasureWare software to compose your own chart-topping hit. String together a series of movements and vibrations (for up to 30 minutes) and you've got yourself a masterpiece, which you download to the unit via a USB cable.

In the spirit of file sharing, you can also upload and download grooves online (when you find a few that work, we suggest creating a "Best of You" Greatest Hits Collection and sharing with friends). And in a gesture more romantic than a love letter, you can send your girl a new composition from the road during a business trip, so she can feel how you were inspired by the on-demand hotel movie selection.

By the end, you might have her screaming, "Play it again, Sam."