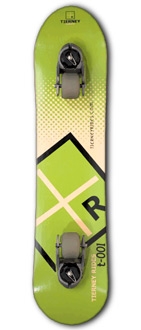 While you'd have to be mildly insane to resent the spring weather taking hold in New York this week, one side effect is a startling lack of snow. This is a problem if you're training to be the next Flying Tomato or even just trying to impress a few more bunnies on the slopes next season. That's where the
Tierney Board
comes into play.
In The Boardroom
Sick of waiting around each summer for snowboard season, brothers Kurt and Tyler Tierney set out to create a street board that could mimic the feel of a snowboard. The result is the Tierney Board, a two-wheel street board that has the speed, control, touch, and (most importantly) carving ability of a snowboard.
Two is the New Four
Built with Torsion Response Technology (perfected in the Tierney household garage), the T-Board takes all the resistance out of turning. On a typical four-wheel skateboard, the more you want to turn, the harder you have to push to steer the board. On the T-Board, just lean your head and your body and board will follow. Pure.
So get out there and enjoy the weather—come winter, the slopes (and the bunnies) will be yours.