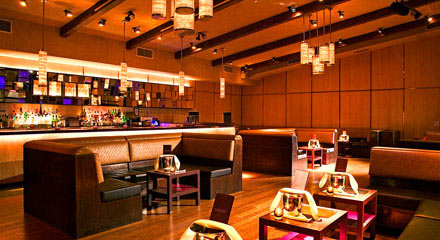 A spot is only as good as its door—or the professional blocking it. Hence THE DOOR, an inside guide to the keepers of New York's most exclusive doors...because you need to know who's there.
~QUICK STATS~
DOOR:
Marquee
NAME:
Wass Stevens
SHIFT:
Tues-Sat
AGE:
[Refuses to state]
HEIGHT:
5' 10"
WEIGHT:
Middle weight
UNIFORM:
Brioni
jacket and tie, custom-made Ron & Ron suit, handmade Italian driving gloves,
Bettanin & Venturi
shoes
HOMETOWN:
Brooklyn
FORMER DOORS:
Every club in New York over the past two decades at one time or another
FAVORITE BOOK:
Anything Harry Potter, Burroughs or Bukowski
PETS:
A three-pound, long-haired Chihuahua
~THE FACTS~
REJECTION RATE:
It's probably holding steady at 70%. Put it this way, they clocked my rejections one night over the summer and it was over 4,600 no's. That is a lot of no's.
REQUIRED GIRL/GUY RATIO:
70/30. It's always better to have more women in a room. But it's never better to have a glut of tacky, unattractive women. There are more women with heinous style in New York than men.
DOOR PHILOSOPHY:
I'd rather the club be fierce and slow than packed and disgusting.
LARGEST BRIBE REJECTED:
A car. Someone once offered me their Range Rover...a new one.
BIGGEST SUSTAINED INJURY:
I was in the hospital for five days because I knocked a guy's teeth out. My hand got infected from a part of the tooth which lodged in the tendon of my middle knuckle. That is why I wear gloves now. I will not work even in the hottest days of summer without a pair of gloves.
AUTOMATIC DQ'S:
Women with their t*ts hanging out, really short skirts, midriff exposed. I hate that...be tasteful. Don't come up to my rope looking like a hooker trying to find a trick in my club.
AUTOMATIC ENTRIES:
There is never a definite...
ever
. I've turned away friends, celebrities, investors.
CLOTHING DON'TS:
Trucker hats are done. Anything with rhinestones and sequins, baseball hats and anything
Ed Hardy
is so done. Untucked dress shirts are a huge pet peeve.
BEST LINE TO USE:
"Hi. We are not on the guest list, but is it okay if we come in?" Be honest. Don't try to bullsh*t me.
WORST LINE TO USE:
"I am a good friend of Wass."
WHAT YOU DO WHEN YOU'RE NOT AT THE DOOR:
I am an
actor
. I just finished working on the season finale of
The Black Donnellys
. It will be a mid-season replacement on NBC. I have a movie coming out called
A New Wave
, and
World Trade Center
is coming out on DVD.
WE'VE HEARD YOU HAVE A THING ABOUT FEET:
Correct. There is nothing worse than a pair of busted feet on a woman. A woman who puts on a pair of strappy heels and doesn't have a proper pedicure...I can't let that in.
THE KIND OF A CROWD THAT MAKES GOOD FILLER:
I love European tourists as a filler crowd. I don't have a problem with a well-dressed couple from Brussels. I don't have a problem with six well-dressed people from France. They add something to the room and Europeans are a lot of fun. They are not as concerned with posing. New Yorkers pose.