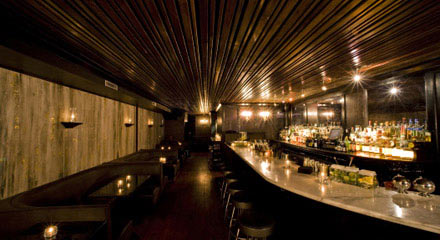 Being seen can be overrated. Sometimes you just want your spot small, dark and windowless.

So when we stumbled upon the just-opened Death & Co, we were pleased to uncover a new den for our bookie handoffs and discreet encounters.

On a run-down East Village block of apartments, you'll see three large wooden doors marked only by a small engraved plaque in the ground. Inside past velvet curtains you'll find a secluded, posh, prohibition-style lounge with stained oak ceilings, topaz chandeliers, and a sense that no one in the city will be able to find you (well, at least for the next week or so).

Settle in at suede banquettes along the gold-flecked wall, or if you're looking for the most reclusive seat in the house, head to the isolated rear booth, complete with its own chandelier (in this town you're no one without your own chandelier).

Drinking hard and in peace is what Death's all about—the bar stocks some of the most hard-to-find bottles of booze in the city, along with killer drinks like the Jersey Tenor (Laird's Apple Jack, VSOP Cognac, Vermont Pure Maple Syrup). A 20-drink cocktail menu is currently in the works, and an all-night menu of small plates like Surf & Turf Tartare and Chocolate Ravioli will soften the blow of all that liquor.

At least until you get halfway through the cocktail menu.