It's not that you ever need an excuse to buy candy.
You're an adult. You can do whatever the hell you want.
Its just that, sometimes, a little seasonal marketing push is appreciated when it comes to buying candy in such quantities as to give an elephant diabetes or to forever stunt your nephew's growth.
So, thanks Halloween.
If you need some inspiration on what to purchase this year, check out this compelling data on the most popular Halloween candy in every state. It's courtesy of CandyStore.com, an online retailer that's been shipping bulk candy across the country and tracking sales for 16 years. The data doesn't have to inform your buying habits, but it's always good to know how your state stacks up — and which states to avoid on your trick-or-treating route.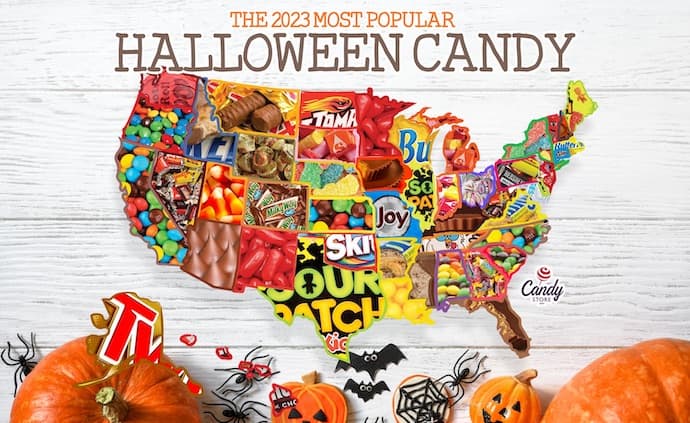 Culling through the 2023 numbers, it seems Reese's Cups are America's favorite candy, followed by M&Ms, Hot Tamales, Skittles and Sour Patch Kids. Although Reese's takes the top spot in overall volume, M&M's are actually the favorite candy in seven states and Sour Patch Kids reign supreme in six states, topping Reese's dominance in five states.
In a move that makes no sense, Candy Corn — preferred only by Utah — has clawed its way back into the top 10 overall. That's despite Candy Corn ranking second, only behind the truly awful Circus Peanuts, in a 12,000-person poll on America's least favorite candy. Rounding out the top five worst candies are Necco Wafers, Peanut Butter Kisses and Wax Coke Bottles.
Anyway, here's hoping your bag is filled with only the best of the bunch. And that no dentists live on your block.
See the interactive map to check where your state lands.