You may never put out a best-selling album like Chris Stapleton.
Or sing the National Anthem at the Super Bowl like Chris Stapleton.
You may never even be able to grow a beard like Chris Stapleton.
But starting now, you can start carrying the same ruggedly handsome Filson luggage as him. And there may be some comfort in that. It really just depends how much you care about Chris Stapleton.
Filson teamed up with the musician on its just-released Traveller Collection, a five-piece set that includes a dopp kit, backpack, outfitter bag, duffle bag and suit bag. Everything hits that high note of heritage sensibilities with modern style. And it's all durable as hell.
The Traveller collection takes its name from Stapleton's 2015 debut solo album. But beyond names, the partnership was a natural one. Growing up in Kentucky, Stapleton was introduced to Filson at an early age, as his father wore a Filson vest while hunting birds alongside the family's English setters. Memories like that are what drew Stapleton to Filson clothing and gear. He wore the brand's Short Lined Cruiser jacket when he sang at the 2023 Super Bowl, and he and his band regularly carry Filson bags when they travel.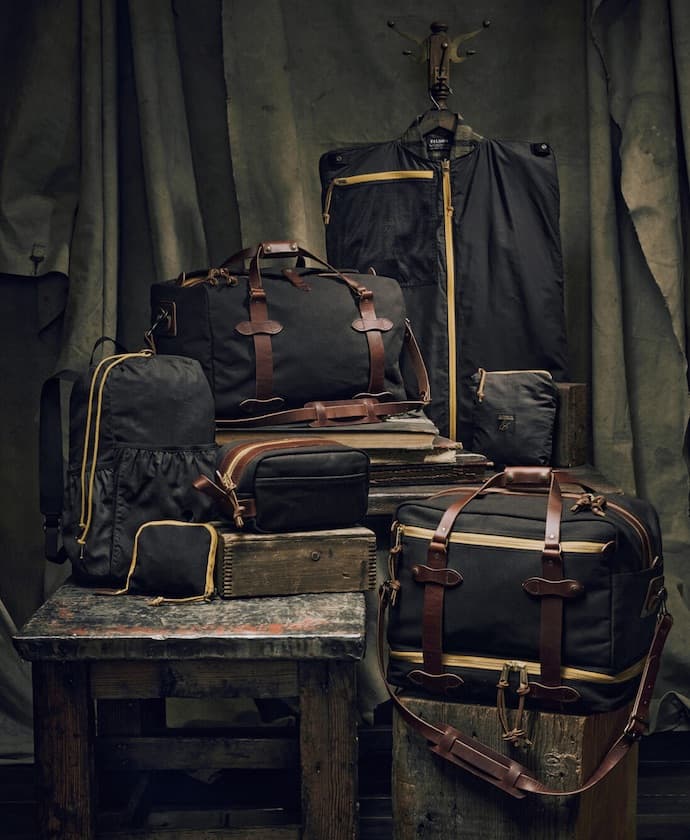 For fans, this is an easy way to connect with the artist. But for everyone else, it's still a solid collection of travel essentials that covers all the bases. Here's what you're working with.
The Traveller Outfitter Bag
Unearthed from the Filson archives, this rugged twill bag blends heritage and functionality. With separate top and bottom compartments and exclusive yellow zippers personally selected by Stapleton, it offers optimal utility and flair for adventurers.
The Traveller Stowaway Backpack
A versatile backpack featuring a drawstring-cinch top closure and lightweight and unstructured body, this bag is made with Ranger dry-waxed ripstop cotton from British Millerain. It fits a lot inside and packs down without taking up a lot of space.
The Traveller Dopp Kit
Showcasing the same design as Filson's popular rugged twill travel kit, this bag comes in a special colorway and includes a collaboration hangtag.
The Traveller Medium Duffle Bag
Made with dependable rugged twill and resilient harness leather, this duffle is a timeless design that features Stapleton's signature debossed onto the leather tab.
The Traveller Suit Cover
Another win for Ranger dry-waxed ripstop cotton from British Millerain, this suit cover is durable and one-of-a-kind, bearing Stapleton's initials on the zipper pulls and custom collaboration tags.