Summer means grilling, and Labor Day — despite its relaxed sensibilities — often means grilling for a crowd.

This year, tell your guests to bring the drinks and a few sides.

Maybe even the plates and the tables and chairs and some kind of shade cover, depending on your situation.

Because you'll be taking care of the meat. By first asking Flannery Beef to send you some.
The California-based company was founded in the 1960s, and today it's run by father-daughter duo Bryan and Katie Flannery. They ship USDA prime beef to Michelin-starred restaurants all over the west coast and the country, and they'll also send beef straight to your house via their website and Goldbelly. So, you can eat the same steaks you'll find at The French Laundry, but at home and without the $1,500 tab.
Flannery is one of the few purveyors that sells Holstein cows, a breed that naturally produces a better meat-to-fat ratio. So that's a good start. And from there, the dry-aging process takes the beef to the next level. But now we're going to an even higher level with a couple of new offerings that will put extra delicious, extra-aged steaks on your plate.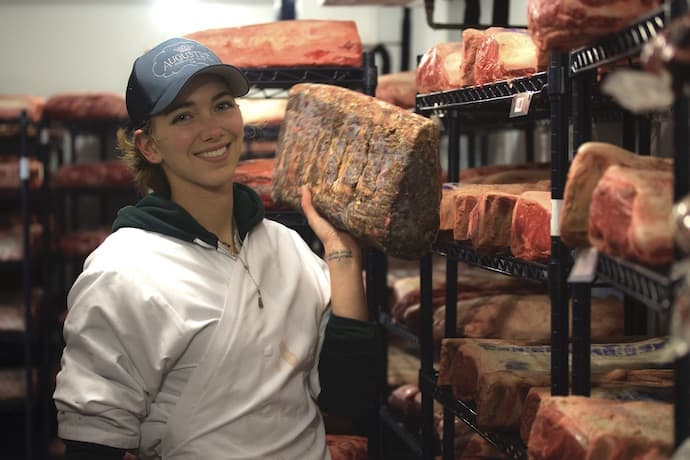 Occasionally, Flannery Beef comes across a cut with over-the-top marbling and exceptional quality. It could be a prime rib, ribeye, New York strip or a porterhouse, but when that happens, they reserve the steak for the newly launched Library. These steaks are rated on a 100-point scale, similar to a fine wine, and shipped frozen in specially designed gift boxes. The availability is limited and unpredictable, so you never know exactly what you'll have to choose from. But it's worth checking back often to see what's new.
Flannery has also launched The Old Ones, a collection of 45, 60, 75 and 90 day dry-aged porterhouse steaks. Previously, the company couldn't age their steaks that long for individual customers unless said customer was extra hungry and willing to buy the entire primal. But this new offering lets you sample these extra-aged, supremely marbled steaks without committing to a full freezer.
Score some meat from one of the new collections, or just grab a handful of California Reserve cuts. They're all good choices. But should you require some inspiration, you can never go wrong with a few 32-ounce tomahawks sizzling atop the grill on Labor Day.
In a pinch, the bone doubles as a wiffle ball bat.