In the canon of tier-one foods, pizza holds a unique distinction in that everyone has an opinion, and it's possible they're all correct.
Neapolitan, Sicilian, New York, Detroit, Chicago deep dish... each is worthy of our attention. Because across its many styles and geographic nuances, nothing soothes a craving or elicits self-care vibes quite like pizza.
But when you want some empirical data to suss out the very best, there's 50 Top Pizzas, an Italian organization dedicated to finding and ranking the best pizzerias in the world. And they've named Una Pizza Napoletana in New York the Best Pizzeria in the USA (2022, 2023) and the Best Pizzeria in the World (2022), which is high praise.
That's great news for New Yorkers or anyone traveling to the city, but for everyone else... it's still great news, because Una Pizza Napoletana founder Anthony Mangieri has created a new frozen pizza line called Genio Della that just launched nationwide shipping. So now you can try his famous pies without leaving the house.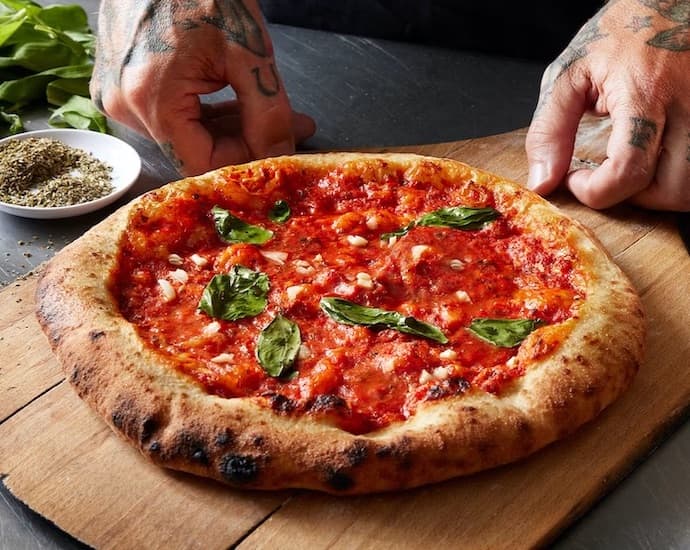 Mangieri has been working on the concept for years, pushing the boundaries on frozen pizza to make the flavor and texture meet his exacting standards. Validation came recently when the Genio Della Margherita pizza placed first in a blind taste test held by the food team at The New York Times.
Genio Della Pizza launched with four options: Margherita, Marinara, The Bianca, and Broccoli Rabe. Each pizza is made with naturally fermented dough that is hand-stretched and topped with fresh ingredients, including Italian tomato sauce and real buffalo mozzarella, and then baked in a woodfired oven in Italy before being frozen and packaged. And unlike most frozen pizzas on the market, there are no fillers or artificial ingredients.
The pizzas are available online at Goldbelly and via GoPuff and DashMart. You can also find them at nearly 100 Whole Foods in the Northeast, as well as a dozen other grocery chains in the region. And they're coming to Bristol Farms on the West Coast on September 6. So, you should never be too far away from a good frozen pizza.
Stock your freezer with a few of each, and you'll make dinner easy on busy weeknights, you can feed visiting guests, or ride out this terrible spate of weather without leaving home.