While we're known to enjoy a good drink, there are lots of reasons people avoid alcohol.
But that doesn't mean they want to drink water all the time, or even give up the relaxing benefits of a nice cocktail or glass of wine.
That's where alternative options come into play, like those made by Jeng. The Montauk-based company launched in 2021 with a line of CBD drinks modeled after classic cocktails. Now, they've added a line of sparkling THC cocktails, giving you even more options to drink when you're not drinking.
Jeng's sparkling THC cocktails are available in four flavors: Spicy Blood Orange Margarita, Rhubarb Cucumber Spritz, Paloma and Moscow Mule. Each is microdosed with 3mg of legal hemp-derived THC and 6mg of CBD. You can find Jeng in alcohol-free bottle shops, restaurants, liquor stores and grocery stores in several major markets around the country. Cans are also available to purchase on the website.
"Since our launch, we have continued to see the desire for alcohol-free options skyrocket," said co-founder John Enghauser. "The subtle elegance of our cocktails aims to de-stigmatize THC, empowering people to find freedom and balance in social settings and continue exploring alcohol alternatives."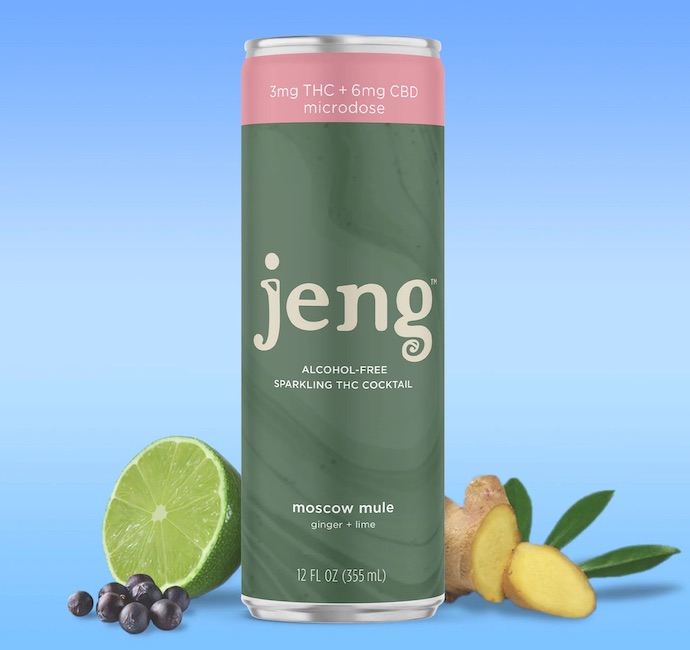 Canned cocktails and seltzers are ubiquitous, but many of them are hangovers waiting to happen. Jeng co-founder Nicole Bray desired a drink without the hangover, hence this line of flavorful THC beverages. And to ensure all adults could try it, not just experienced cannabis users, they kept the dosage to a manageable level.
"We crafted Jeng as an upscale summer essential for mindful sipping at the beach or the bar, that allows you to control your buzz without compromising the cocktail experience," said Bray.
The Spicy Blood Orange Margarita is citrusy and juicy, with a mild kick of jalapeño. The Rhubarb Cucumber Spritz is light and fresh—the strawberry-rhubarb notes are cooled by a touch of cucumber, making it reminiscent of fruit-laced spa water. The Paloma is a recognizable take on the classic cocktail, but with a hint of rosemary. And the Moscow Mule provides a gingery kick up front, followed by lime and a dash of botanical juniper notes.
You can drink straight from the can, but we suggest pouring the drinks over ice. They aren't overly sweet, but a little extra chill and dilution is welcome. At just 3mg of THC and 6mg of CBD per serving, we found the effects to be mild. Rather than feeling high, there was just a general feeling of relaxation at the end of the night. And with zero headache, dry mouth or other hangover effects the next day, we'll call it a success.