Creating an enviable wine collection can take a lifetime.
It usually involves years of befriending sellers, visiting small producers, hunting down rare bottles across the globe, and pillaging shops.
But there's another way.
Let someone else do all of the above, and then you swoop in to reap what they've sown. It's the ol' "work smarter not harder" philosophy, and it's a tried-and-true way to get your collection up to speed in a hurry.
Sotheby's new auction, dubbed The Cellar of Lewis Chester, features wines from the personal collection of one of the world's most influential oenophiles. Chester is a wine writer, and he founded the Golden Vine Awards, aka the Oscars of Fine Wine.
This auction represents just part of his total collection, and the bottles within are valued at more than $1.2 million. Online bids are open now and bidding closes June 1.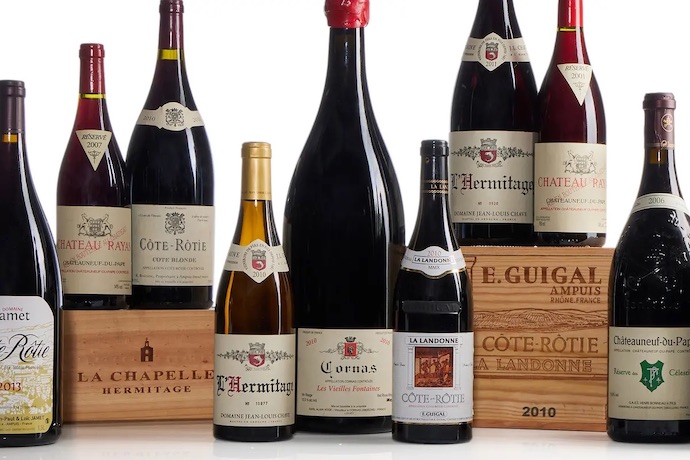 Chester first got into wine via Bordeaux, Champagne and Burgundy, but his interest soon extended to Tuscany, Piedmont, California, Australia, the Rhône Valley, the Loire Valley, Alsace and the Mosel Valley. So, it's a varied collection. And everything has been properly cellared in temperature-controlled storage.
"Today, my collection is far too big to contemplate consuming it all, although I have been giving it a good crack!" said Chester. He also owns many incredible wines in large quantities, so he said he wanted to let some of those go to share them with other wine lovers.
Lots range from single bottles to cases. There are 251 lots of Burgundy, so that's an easy place to start. There are also more than 100 lots of Champagne, encompassing brands like Krug, Dom Pérignon, Vilmart and Pol Roger. And his collection features exceptional wines from Bordeaux, with First Growths Lafite, Latour and Margaux, among other coveted bottles.
Throw in some Rhône producers, plus a few bottles of Barolo and Barbaresco, and you'll have plenty of wine to stock your own cellar.
Or to host a really, really good dinner party.