Elvis was an icon known for many things, including his music, movies, personal style and hip mobility.
But even more than his music, one trait in particular has stood the test of time: his penchant for snacking on peanut butter, banana and bacon sandwiches.
And because that combo's no good in a blender, someone made it into a whiskey.
Midnight Snack comes from Elvis Whiskey, a brand that was created by Grain & Barrel Spirits in 2021. They've already produced Elvis "Tiger Man" Tennessee Straight Whiskey and Elvis "The King" Tennessee Straight Rye Whiskey. This is their first sandwich-flavored expression. And if you're going to turn a sandwich into a whiskey, the Elvis isn't a bad idea—whereas tuna fish probably is.
The holy trinity of peanut butter, banana and bacon packs a lot of flavor into one package. The brand says, "This decadent flavor combination is a perfectly balanced blend of sweet, savory, salty and smoky."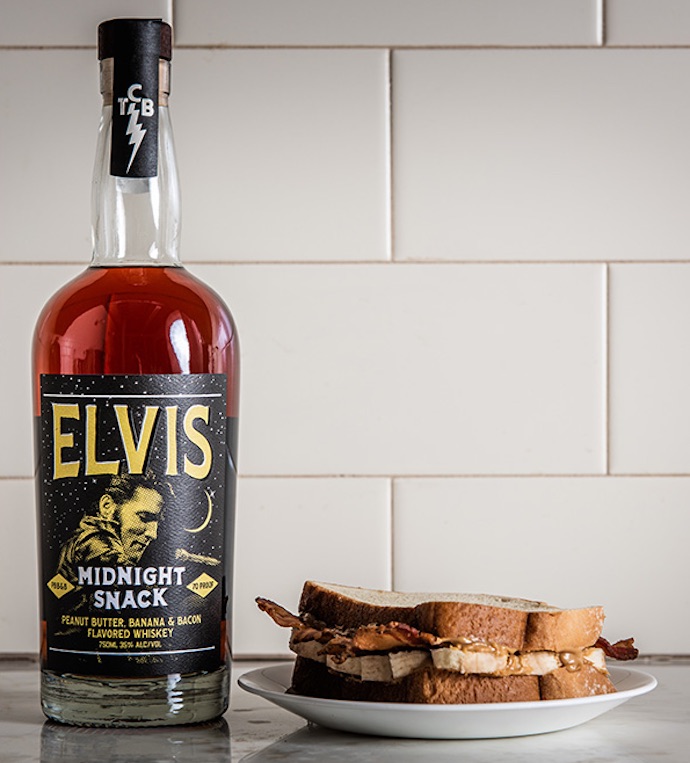 They also say that it works well as a straight pour, over rocks, as a shot and in a simple cocktail like an Old Fashioned. The whiskey is 70 proof, which is mostly in line with other flavored spirits.
"Elvis is one of the most significant cultural icons of the 20th century and continues to inspire his fans today, as we've seen by the massive success of the recent Elvis movie, both in its record-breaking box office numbers and awards," says Grain & Barrel Founder Matti Anttila. He adds that flavored whiskeys are continuing to grow in popularity in the U.S., which made his team excited to introduce Midnight Snack to its portfolio.
If you want to give this a whirl, you can find it in stores nationwide, as well as online via sites like Caskers and Reserve Bar. Pour yourself a glass the next time you need a comforting snack.
But then also make yourself a sandwich, because this whiskey will do nothing for your hunger.