Via Carota is one of the most beloved restaurants in New York's West Village, which is great if you live nearby.
But now the sentiment applies to everyone, because the restaurant just released a line of ready-to-pour craft cocktails that you can serve at home.
Via Carota was founded by James Beard award-winning chefs Jody Williams and Rita Sodi. It's known for its Italian menu and relaxed sensibilities. And with the new product line, the founders are hoping to bring that same spirit to bottled cocktails.
Via Carota Craft Cocktails consists of three "families" covering two cocktails each, all in bar cart-worthy packaging that you'll be happy to display.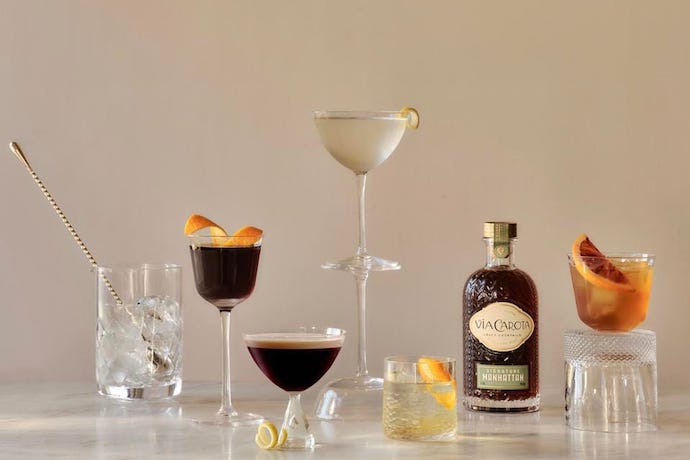 The Negroni Family consists of a classic Negroni (dry gin, Forthave Red Aperitivo and sweet vermouth) and a White Negroni (dry gin, Forthave White Aperitivo and a vermouth blend).
The Bourbon Family features an Old Fashioned made with four-year-old rye whiskey, aromatic bitters, natural orange flavor and brown sugar, and the Signature Manhattan joins a four-year-old rye with sweet vermouth and bitters.
The Martini Family includes an Espresso Martini (vodka and espresso) and the Signature Martini, which features vodka and dry vermouth.
Each bottled cocktail is 375 mL and makes about four servings. The cocktail families are also available as a set, in which two bottles are paired with corresponding glasses—Nick and Nora for the Martinis, and Italian-made lowball glasses for the Negronis and the bourbon drinks.
There are no shortage of bottled cocktails on the market these days, but few look as good as Via Carota and even fewer come with such a great pedigree.
But mostly, think of all the "family time" you're about to enjoy.