Summer is spritz season.
There's no denying it. But there's more to spritzes than simply mixing Aperol with prosecco and sparkling water.
For instance, sometimes spritzes are made with brown sugar and soy sauce and meant to improve brisket.
These are those kinds of spritzes.
Because while cooking meat low and slow is a time honored tradition, the emphasis is on time. The result is usually worth the effort, but it's a lot of effort. So count us in for anything that makes the process easier without sacrificing quality.
Also, for anything called Meat Sweats.
The company was founded by a pair of Raleigh, North Carolina-based brothers who know a thing or two about smoking and grilling meats. And rather than producing a marinade or barbecue sauce, they created a lineup of "BBQ spritzes" to improve your cooking.
The spritzes take the place of traditional mop sauce, which is basted onto meat during long bouts on the grill or smoker. So instead of a mop, you're armed with a convenient spray bottle, and you can employ its powers by spritzing the meat every 30 minutes after the initial bark forms. The end result is extra-juicy meat with a deeper smoke flavor and better, more colorful bark.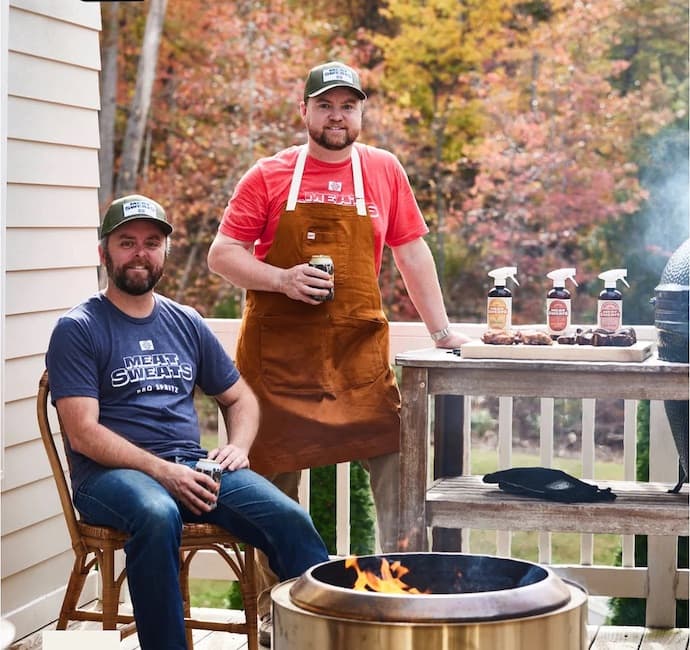 Meat Sweats currently offers three options.
Hog Wash BBQ Spritz
Meant to maximize the flavor, bark and tenderness of pork, the Hog Wash spritz combines apple juice, apple cider vinegar, brown sugar and salt into one easy-to-apply package. Enlist whenever throwing ribs, pork shoulder and other pork cuts on the smoker, or try with pork chops and vegetables on the grill.
Bird Bath BBQ Spritz
Poultry isn't always the juiciest or most flavorful protein, but you can change that with the Bird Bath spritz, which ups the flavor and even the crispness of chicken skin. The brand suggests using it when smoking whole chickens, thighs, breasts and wings, or apply it to turkey or vegetables for a little kick. It's made with apple cider vinegar, brown sugar, hot sauce and salt.
Bull Spritz BBQ Spritz
Made with a combo of beef broth, white vinegar, brown sugar, soy sauce and Worcestershire sauce, this spritz was designed with beef in mind. We're talking briskets, roasts and beef ribs on the smoker, or burgers and steaks on the grill. When slow-cooking, spray it on to imbue the meat with additional flavor, crisp bark and tenderness.
You can buy the above in individual bottles, three-packs or as a trio featuring one bottle of each. The company also makes a small line of merch, just in case you need a new hat or T-shirt to match your spray bottle.