Each year, the World's 50 Best Bars releases its list of the country's best cocktail joints. And each year, it gives us something fun to argue about.
Past winners have congregated in London and New York, but 2022's just-announced lineup features Barcelona in the top spot for the first time.
Paradiso took home the top prize, with two other Barcelona bars—Sips and Two Schmucks—ranking third and seventh, respectively. Last year, Paradiso ranked third. The bar is hidden behind an antique refrigerator in the back of an unassuming pastrami shop in Barcelona's El Born district, and inside, it reveals dramatic glass light fixtures, a Gaudi-inspired curved wood ceiling, and well-executed cocktails served in playful vessels.
Though Barcelona had a particularly strong showing and makes a strong case for world's greatest cocktail city, New York fielded more bars on the list than anywhere else. Its six entries include Double Chicken Please at number six and Katana Kitten at number nine. London also put on a good show, with five bars represented on the list, including Tayēr + Elementary at number two and The Connaught Bar (a prior winner) at number eight.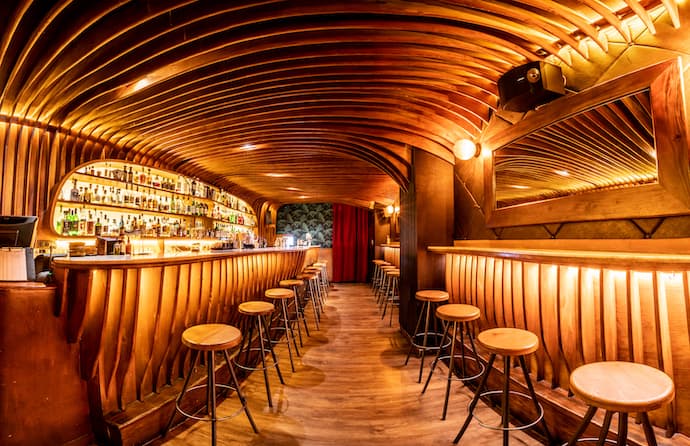 Overall, the 2022 list features bars from 26 cities, with 14 new entries. And for the first time, bars from Florence, Lisbon and Naples cracked the top 50.
The World's 50 Best Bars is judged by an academy of more than 650 drinks experts, including bartenders, consultants, writers and spirits professionals.
The World's 50 Best Bars — 2022
1. Paradiso, Barcelona
2. Tayēr + Elementary, London
3. Sips, Barcelona
4. Licorería Limantour, Mexico City
5. Little Red Door, Paris
6. Double Chicken Please, New York
7. Two Schmucks, Barcelona
8. The Connaught Bar, London
9. Katana Kitten, New York
10. Alquímico, Cartegena