A good homemade sauce can elevate almost any dish.
But just because this is true doesn't mean it's easy, or that you want to make the extra effort.
So act like an executive chef and delegate the sauce work to someone else—in this case, actual chefs who know what they're doing.
Our Pantry is a new line of sauces that goes live September 20, with products available to preorder online now. The LA-based company was founded by Carolyna De Laurentiis, formerly of the transparency-focused health company, Ritual. She partnered with chefs to create original jarred sauces that celebrate their personal heritage while featuring high-quality, traceable ingredients.
Those chefs include Adrienne Cheatham (Le Bernardin, Red Rooster, Top Chef), Silvia Barban (LaRina Pastificio & Vino, Top Chef) and award-winning cookbook author Mariana Velasquez. All three know their way around a sauce, and the results will make your dishes and snacks taste better than usual.
Our Pantry will launch with four sauces, and they plan to introduce more chef partnerships and products in the coming months. Here's what you can start putting in your own pantry.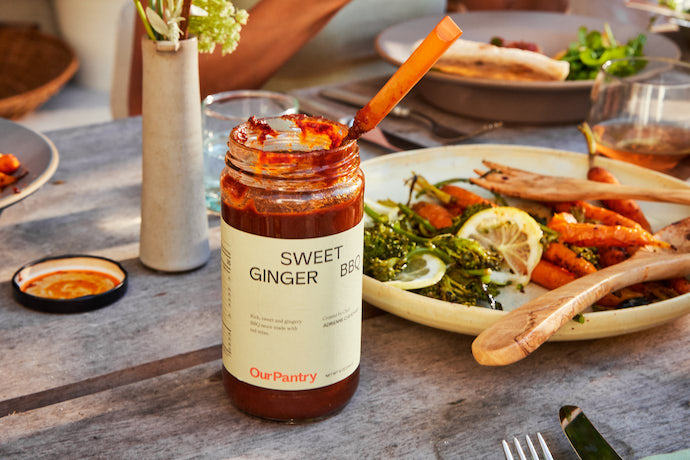 Sweet Ginger BBQ
Chef Cheatham's rich, sweet, and gingery barbecue sauce is made with organic red miso and date syrup. Slather it on your favorite proteins or vegetables before grilling, or mix it with a neutral cooking oil before drizzling on dishes.
Roasted Tomato Onion Salsa
Made by Chef Velasquez, this take on hogao (Colombia's most versatile cooking sauce) features roasted onions, smoked chipotle chiles and tamarind paste. Serve warm on proteins, eat with your favorite chips, or use as a base in stews. It's also good as a side on everything from grilled meats and fish to beans and rice.
Cherry Tomato Sauce
Chef Barban's light pasta sauce is made with sweet, hand-picked yellow Datterini tomatoes from Italy. Use it on pasta or pizza.
Cherry Tomato Arrabbiata
Another Barban creation, this pasta sauce has a kick provided by sustainably-farmed Cobanero chiles and more of those yellow Datterini tomatoes. Pair with your favorite pasta, top pizza with it, or throw it in with your eggs.