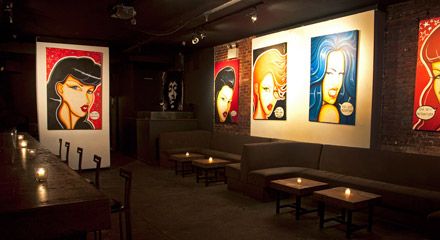 It's the new year, and you're trying to figure out a way to ease painlessly into some of your resolutions—like the one about bringing more culture into your life.

Thank GalleryBar, the new art gallery and lounge rolled into one, for providing a way to break in your resolution via a Saturday night.

Just soft-opened on the LES, GalleryBar lets you indulge with a scotch while perusing local and international artwork (the perfect lens with which to appreciate a painting, in our humble opinion). In the main gallery, scope the sculpture wall, where later this month they'll display a monster belly-button, scaled to the size of what the Statue of Liberty's would be (you know you've always been curious). Duck into the working vintage photo booth in the back, and if you're looking particularly punchy, you might find your shot rotated into insets in the darkroom-esque bathroom walls.

There's no bartender by day (shame, we know), but around 7pm expect the drinks to start flowing, the music to start kicking and the lighting to dim, creating a cool spot for you and your friends to drink and talk spatial impressionism. And if you tire of the visual overload, tuck away downstairs to the candle-lined, rustic basement-lounge that's outfitted with furniture fashioned from 100-year-old pine.

Because a New Year's resolution is much easier to keep with a Jack and Coke in hand.