Making pasta from scratch for that dinner party you've been meaning to host is a noble goal.
A noble, overwhelming goal.
But it turns out, it doesn't have to be overwhelming—or even particularly difficult.
Because cook and author Odette Williams has a new book called Simple Pasta that breaks down pasta making into something even the average home cook can handle. It's available to preorder now, with books shipping August 30.
Actor, Italian person, and pasta lover Stanley Tucci described the book thusly: "Pasta deliciously portrayed in all its rustic elegance." So, that's something.
Odette stays true to the "Simple Pasta" theme, highlighting three base doughs (egg, semolina and gnocchi) that become the starting point for recipes. There's also a section for everyday sauces and crunchy bits, along with tips and tricks for rolling, cutting and shaping fresh pasta dough.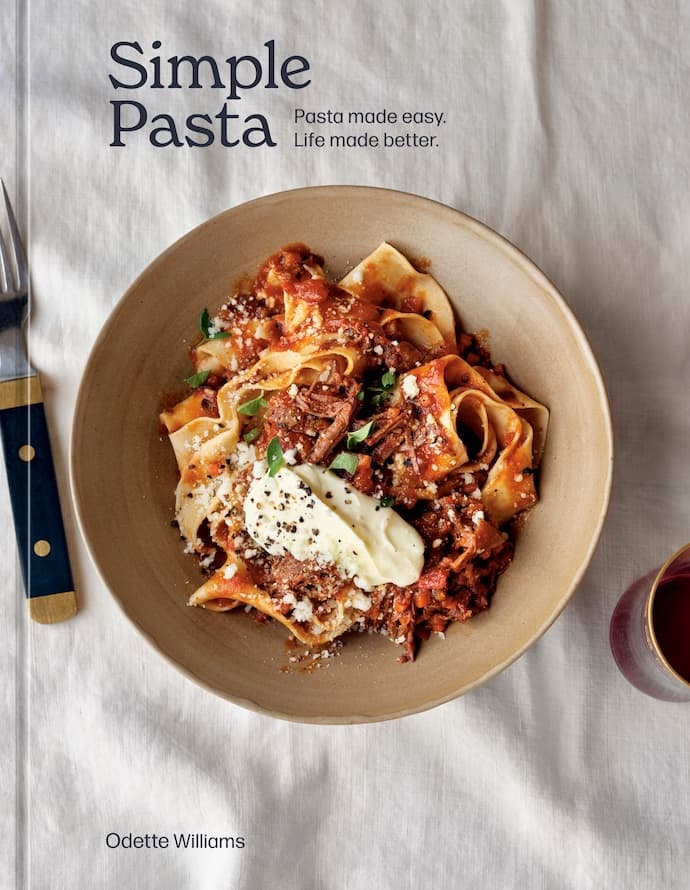 The book is divided into four seasons, so you can cook with fresh produce and eat dishes indicative of the season. Throughout the 256 pages, you'll see lots of gorgeous photos, but you will also find cocktail recipes, entrees and desserts, giving you everything you need to put together a full meal.
Important to note: Odette says she never made pasta from scratch until she was 40, so there's hope for us all. Now, here's a cacio e pepe recipe (with directions for using fresh or store-bought pasta) to cook up the next time you're hungry.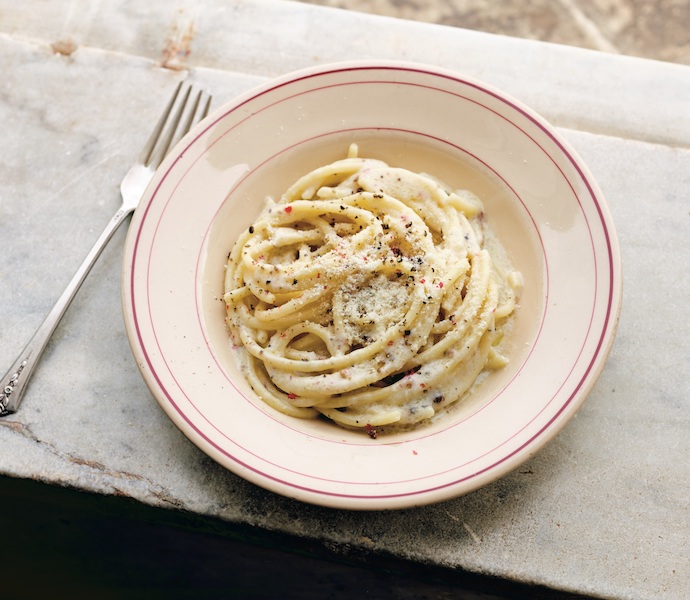 Cacio e Pepe Recipe
Makes 2 servings
Ingredients:
Fresh pasta: 1⁄2 recipe semolina dough (page 27), shaped into pici (see page 50
Store-bought pasta: 8 ounces dried spaghetti, bucatini, tonnarelli or trofie
1⁄2 teaspoon black peppercorns
1⁄2 teaspoon white peppercorns
1⁄2 teaspoon pink peppercorns
3 tablespoons unsalted butter, at room temperature
1 tablespoon extra-virgin olive oil
1⁄2 teaspoon kosher salt
1 cup finely grated Pecorino Romano, plus more for serving
Instructions:
1. Bring a large pot of lightly salted water to a boil. Add the pasta and cook until al dente or a minute or two shy of package instructions if using store-bought.
2. While the pasta cooks, place all the peppercorns in a mortar and pestle and smash into very small fragments (not too much dust, not too many chunks).
3. When the pasta is al dente, reserve at least 1 1⁄2 cups of the pasta water, drain the pasta in a colander, and then return it to the still-warm pot.
4. Off the heat, add the butter, olive oil, salt, and all but a pinch of the pepper to the pasta and stir to combine. Add a splash of the pasta water, then hold your hand up high over the pot and gradually sprinkle a couple tablespoons of the pecorino over the pasta while stirring quite vigorously with a large wooden spoon (you may need to steady the pan). Repeat this sequence a few times, until you have incorporated all the pecorino and about 1 cup of the water (or just as much as needed to create a creamy, emulsified sauce).
5. Serve the pasta with that last pinch of pepper and more grated pecorino.
Reprinted with permission from Simple Pasta by Odette Williams, copyright (c) 2022. Published by Ten Speed Press, a division of Penguin Random House, LLC.