If a whole leg shows up on your doorstep, something has either gone very right or very, very wrong.
Fortunately, this is one of those situations to be thankful for, because Mercado Famous is shipping whole legs of jamón Ibérico and other Spanish cured meats straight to your door.
Company founders Aaron Luo and Carmen Chen Wu were raised in Spain by Chinese parents, and their grandparents worked at one of the country's first Chinese restaurants. After moving to the U.S. the pair became nostalgic for the Spanish way of life, in which people come together over charcuterie and cocktails. They missed the pasture-raised meats they grew up eating, so they decided to start sourcing and selling their own. Which is good for them and great for you.
Spain has provided us with many fine products over the centuries, but it's hard to beat jamón Ibérico. The meat, which is a staple at tapas bars and on charcuterie boards, comes from Spanish pigs that are fed a diet of acorns and prized for their rich, nutty taste.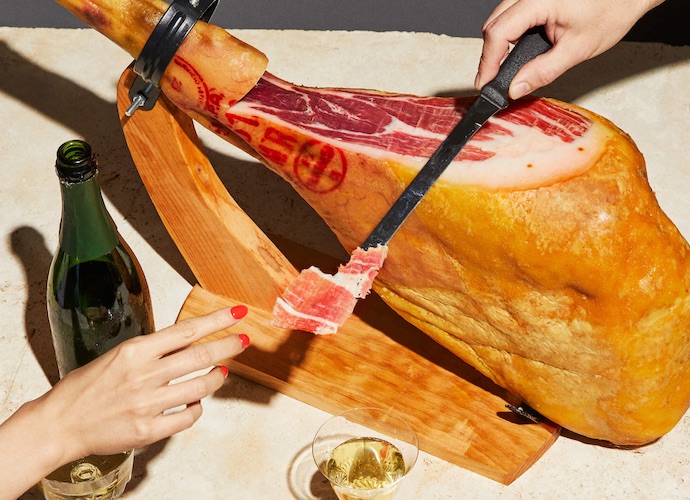 Mercado Famous offers 100% Ibérico ham that's been aged for 48 months, plus 50/50 Ibérico and Duroc hams that are aged for 36 months. From there, you can try additional meats, like Lomo Ibérico (a rich, marbled cut of tenderloin) and the versatile jamón Serranía, which is cured in the Salamancan countryside for 17 months.
Continue filling your virtual cart with Salchichón Ibérico (a cured sausage seasoned with nutmeg and pepper) and a few packs of mild chorizo. Or buy a bundle, which combines a selection of the available meats together, so you don't have to choose. Whichever route you go, everything comes from free-roaming, naturally cured pigs that were raised on farms and contain no additives and nitrides.
The real power play, however, is to get a whole leg of 100% Ibérico ham. Each leg weighs about 15 pounds, feeds up to 25 people and comes with carving instructions, so consider scoring one for your next party.
Alternatively, you could bring this to someone else's party and really make everyone else look bad, as they walk in with bottles of wine and sad appetizers.