These days, there are nearly as many celebrity-backed spirits as there are celebrities.
Some are good. Some are terrible. And some make a lot more sense than others.
Because with all due respect to The Rock and LeBron James, it's often difficult to imagine your favorite stars and elite athletes drinking their own products. But the guys from It's Always Sunny in Philadelphia... yeah, we trust they like to knock back a few drinks on occasion.
Four Walls is a new whiskey line from Glenn Howerton, Rob McElhenney and Charlie Day, the trio behind the hit show that's centered around Paddy's Pub in Philadelphia. And, in a nice turn of events for this burning world, all proceeds from these first releases will be donated to non-profit organizations benefitting Pennsylvania's hospitality industry.
The fledgling brand launched with two products; each is available to purchase via the website.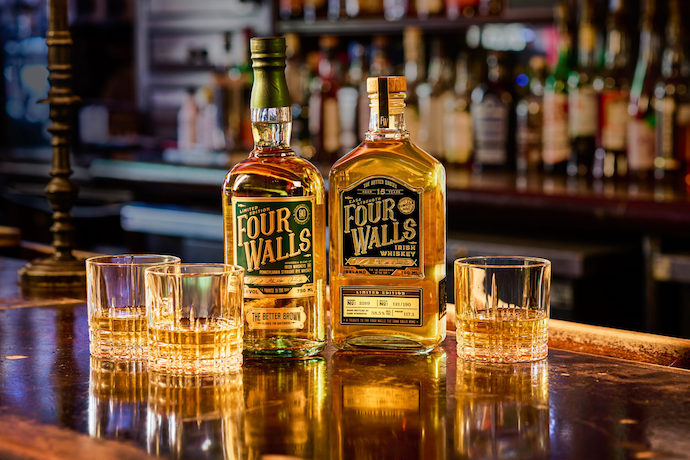 Bartender's Blend Limited Edition
Triple-distilled Irish grain whiskey is joined by an equal measure of pot still malt whiskey, then aged for five years in ex-bourbon casks before getting a touch of Pennsylvania rye. Fruit and spice converge, as the grain, malt and rye whiskeys each make themselves known. This whiskey is plenty smooth to enjoy straight, but it can also be mixed into cocktails.

Cask Strength Single Barrel Collector's Edition
This very limited, single-cask Irish whiskey is made in traditional pot stills and matured in ex-bourbon barrels for 15 years in homage to Always Sunny's 15-year record-breaking run on air. Only 755 bottles are available, so it's not cheap. In fact, it's a thousand bucks. But this collector's edition comes with autographed cards from the gang, plus an engraved wooden box and bragging rights.
Aromas of malty cereal, baking spices and leather lead the way, followed by chocolate and boozy fruit cake. The palate is rich and complex, with layered honey, vanilla and dried fruits, and it finishes warm and long, with baking spices, leather, menthol and chocolate.