Pizza delivery will always be a go-to option when you're hungry, but there's something extra rewarding about cooking your own pizza.
Doing so with fire... even better.
But you can't just shove a pizza on a stick and hold it over an open flame.
So here's the Pi Pizza Oven from Solo Stove. It lets you make wood-fired pizzas in your backyard, which seems like something you might like to do on Memorial Day or whenever you want to pair pizza with beer and the outdoors. So that's six, maybe seven times a week.
The Texas-based company got its start with camp stoves and smokeless fire pits, which means they know a thing or two about cooking and fire. At just 20-inches wide by 15-inches tall, and 30 pounds, the Pi Pizza Oven is portable, so you can take it to gatherings that occur outside your own backyard. Like, say, someone else's backyard. Or a campsite.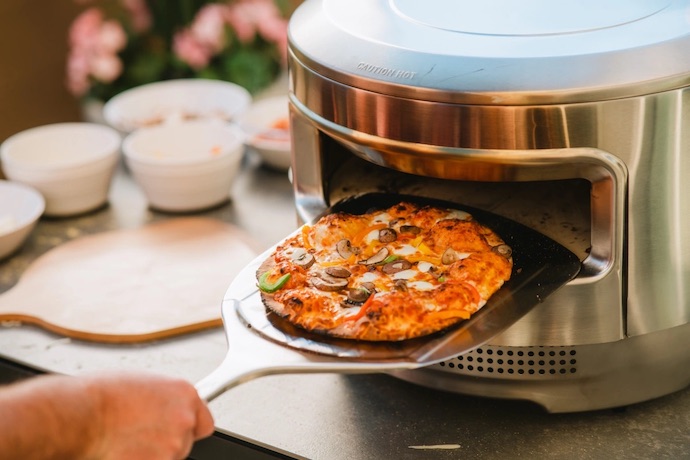 The dome-shaped construction is designed for capturing, keeping and transferring heat to the cordierite stone surface, so your pizza cooks evenly and comes out crispy. It can bake 12-inch pizzas in just two minutes, with temperatures topping 750 degrees.
Wood is the only fuel source you need, and like the company's fire pits, the oven is engineered to reduce smoke. But there's also a dual-fuel version that accommodates propane, giving you the option to cook via gas burner.
Buy the pizza oven alone, or throw in a few accessories—the company also makes a stand, a stainless steel peel and turner, a pizza cutter and an infrared thermometer.
Which means you're just the perfect location and some tables and chairs away from opening a restaurant.