There's a time and a place for music and drinking.
And, despite what some stodgy country clubbers might say, there's no better time or place than your next round of golf.
So this new bag from MNML Golf is a welcome addition to your repertoire. Because while all bags hold necessities like clubs and balls, the solar-powered MV2 Golf Bag includes a waterproof bluetooth speaker, a phone charger, and an insulated pocket for beers.
The lightweight microsuede bag is available in two colorways: solid black or white with black trim. It looks minimalist but does everything you want a bag to do: accommodate 14 clubs, stand on its own and feature comfortable backpack straps for carrying. Beyond the basics, it's packing some serious features within.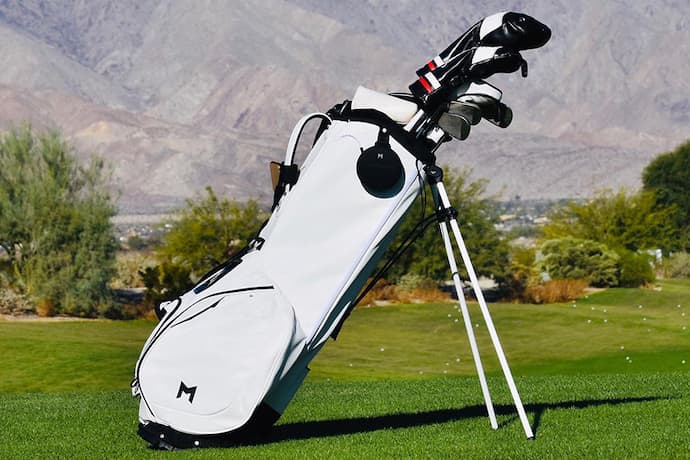 A solar panel connects to an integrated charger and distributes power to your devices, so you can keep your phone and whatever else charged. Like the waterproof bluetooth speaker that can run for eight hours (or roughly 36 holes), providing a soundtrack to your day on the course.
There's a dedicated range finder pocket, if you've got one of those. There's even a small, clear pocket for stashing your phone, so you can easily check your messages—but it's positioned so that you can turn the camera on to film your golf swing. Perfect for a trip to the driving range, or whenever you need video confirmation of a potential hole in one.
All pockets are magnetic, rather than zippered, which makes for easy access to balls, tees and whatever else. And importantly, there's a spacious insulated pocket that holds up to six beers or canned cocktails.
None of this will make you better at golf.
But it'll make you care less about that double bogey on seven.