When temperatures dip into too-damn-cold territory, you have a few options.
Putting on another layer is a classic choice, and one your mom would approve of.
You can always make a fire, provided you have a fire place or fire pit or nearby materials that burn.
But when you just can't shake that winter chill, there is only one solution: a hot cocktail.
This tried-and-true remedy will warm you to your core. Or at least help you forget about the elements for awhile.
Sweater Weather is an aptly named drink that combines Australian whisky with fresh lemon juice and apple cider, plus a couple embellishments that bring a little more flavor and flair to your glass. The recipe comes from Judy Elahi, the corporate bar director for 101 Hospitality, the Washington, DC-based group behind Michele's, Baker's Daughter and Gravitas. Here's how to make it.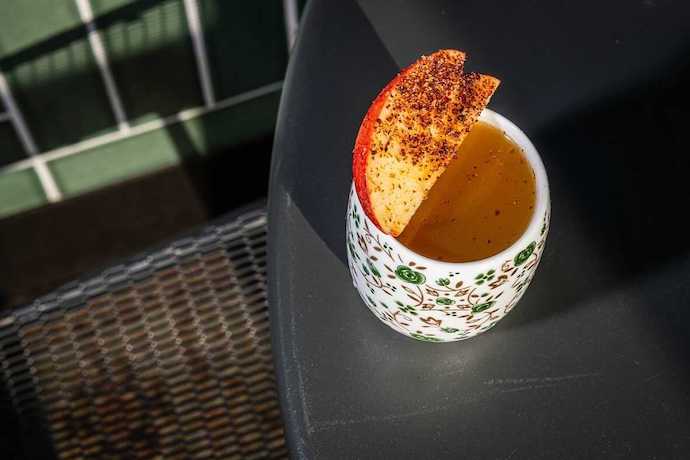 Sweater Weather Cocktail Recipe
Ingredients:
2 ounces Starward Two-Fold Australian Whisky
0.5 ounce fresh lemon juice
0.5 ounce secret spice syrup*
1.5 ounces apple cider
2 dashes Angostura bitters
2 dashes pink salt saline syrup**
Garnish: apple slices dipped in grated nutmeg
Combine lemon juice, secret spice syrup, apple cider, bitters and saline syrup in a saucepan. Heat on very low until simmering. Remove from heat, add the whisky, and stir to combine. Pour into a heatproof mug, garnish with apple slices, and serve.
*Secret Spice Syrup
2 parts sugar
1 part water
1 pinch espelette (or sweet or smoked paprika)
1 bay leaf
1 pinch Szechuan and pink peppercorns
1 pinch Aleppo pepper
Combine all ingredients in a saucepan and heat to combine. Let cool, strain spices and store for 2 weeks in the refrigerator.
**Pink Salt Saline Syrup
2 parts pink Himalayan salt
1 part hot water
Combine both ingredients in a bowl and stir to combine. Cool and use in cocktails.