Some of us (not naming names) are still hungover from New Year's Eve.
And all of us are still feeling the effects of the last year.
So, here's to a better one.
But you can't be expected to face 2023 on an empty stomach. That's where this Boozy Breakfast Sandwich comes into play. It's loaded with all the things required to improve your morning—and hopefully your year.

This recipe comes from Brad Kent, a certified food scientist and the chef behind Bagel + Slice in LA's Highland Park neighborhood. He's taken the classic Bacon, Egg and Cheese and given it new life with a homemade Bloody Mary Hot Sauce that turns the classic eye-opener into a sandwich topper. Use it on your breakfast sandwiches, add it to Micheladas, and pull it out whenever your favorite foods need a flavorful kick.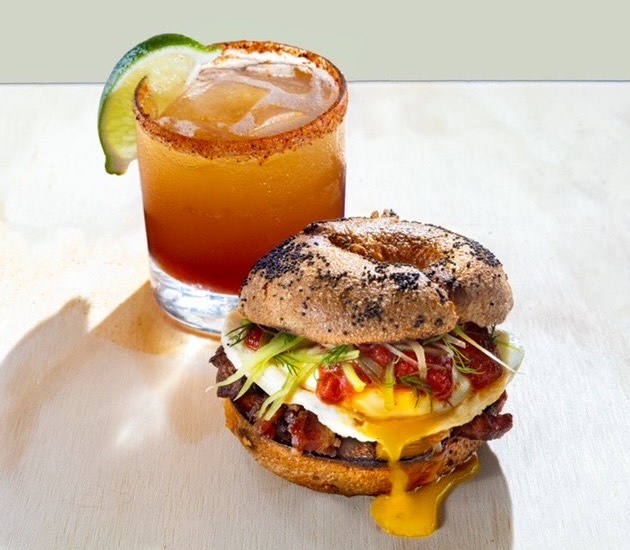 Boozy Breakfast Sandwich
Ingredients:
1 bagel, toasted and buttered
2 bacon strips, cooked and chopped into pieces
1 fried egg, cooked medium
1 tablespoon Bloody Mary Hot Sauce*
1 small handful fresh celery, julienned
A few sprigs of fresh dill
Garnish: fresh celery seed and cracked black pepper
Add bacon and egg to toasted bagel, then top with hot sauce, celery, dill and garnishes.
*Bloody Mary Hot Sauce
Ingredients:
1 6-ounce can tomato paste
Zest from 1 lemon
1/4 cup lemon juice
1 teaspoon ground black pepper
2 teaspoons prepared horseradish
3 tablespoons Tabasco
2 teaspoons Worcestershire
1/2 teaspoon granulated garlic
1 teaspoon salt
1 tablespoon sugar
1/4 cup vodka (or water)
Whisk all ingredients together until combined.