There's a chill in the air, leaves on the ground and jackets on bodies.
We're in the thick of fall, friends, which means winter's just around the corner and we're charging hard into soup season.
Yes, soup. That glorious hug in a bowl that warms you up, alleviates life's troubles and lets you employ that 42-quart pot stashed in the back of your pantry a few times each year.
Adding to your soup arsenal is the new Better Than Bubbe's Matzo Ball Soup Kit from Carnegie Deli and The Matzo Project. It's available now and ready to ship itself (with possible human assistance) to your home.
Over the decades, New York's Carnegie Deli has plied countless diners with pastrami sandwiches, corned beef, potato knish and other delights. But, as we established, this is soup season. So they teamed up with The Matzo Project to bring you one of the world's finest comfort foods.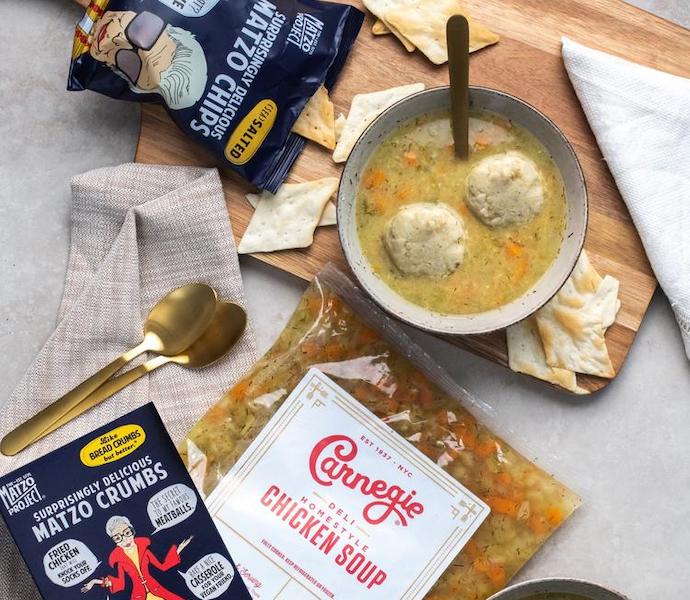 The kit includes eight servings of flavorful broth that's been simmered with chicken, carrots and celery. Matzo Project's all-natural, Brooklyn-made matzo crumbs are combined with eggs, water and oil to make the matzo balls that will fortify your soup. And there's also four bags of crunchy sea-salt matzo chips to serve on the side.
Is this kit really better than your grandma's soup? Hard to say. We don't know your grandma. But we do know you should probably avoid telling her the name of this thing.
Either way, the kit has everything you need to feed a hungry army or to fight off a cold.
And none of the questions about your personal life.