The world is full of bottled cocktails. And canned cocktails. And cocktails packaged in boxes and mini kegs.
It seems like a new product pops up every day, and most are sad facsimiles of what you'll find in bars.
But this $150 bottled Old Fashioned will make you rethink the entire category.
The Gold Fashioned comes from Robert Haynes, the founder of Apologue liqueurs and a former bartender at the acclaimed Violet Hour cocktail bar in Chicago. He scoured the globe for ingredients to create the drink, and he's finally ready to share the results—you can buy a bottle online now.
The base of the Gold Fashioned is a blend of eight-year-old straight bourbon from Kentucky and five-year-old rye whiskey from Indiana. This specific blend was chosen to impart a toasty warmth, assertive spice and a smooth finish.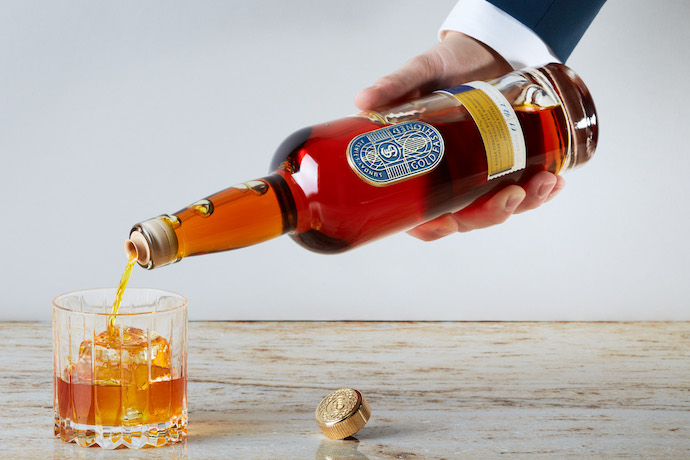 The whiskeys are joined by Haynes' proprietary aromatic bitters, made with ingredients sourced from five continents: saffron from Afghanistan, Tahitian vanilla beans, Ecuadorian cacao, orange peels from Seville, Spain, and gentian root from the French Alps. The sweetener is demerara sugar from Malawi. All that helps to explain the price tag.
The attractive blue and gold packaging houses more than just the bottle. Enclosed you will also find a tiny bottle of orange zest meant to be spritzed over the top of the cocktail, similar to how you might express the aromatic oils from a fresh orange peel before drinking.
Serve the Gold Fashioned over ice, and you get a lush, nuanced cocktail with vanilla, fruit, spice and oak. It's an Old Fashioned you'll recognize, and it's a couple steps easier than making your own. The 750 mL bottle nets about 12 two-ounce pours. Do a little math, and that's $12.50 per drink, which is significantly more expensive than other bottled versions but roughly in line with ordering an Old Fashioned at a cocktail bar.
Remind yourself of that fact, and the price seems more palatable. Pour yourself another glass, and you'll cease to care entirely.