Halloween is quickly approaching, which means that people everywhere will be gorging on candy they "bought for trick-or-treaters."
You may choose to do the same, but with one notable difference.
You'll be washing down your fun-size candy bars with vodka from truly terrifying places.
Harridan Vodka made 60 limited-edition bottles dubbed Paranormal Reserve. Each was rested for seven days in three of America's most haunted houses: the Villisca Axe Murder House, the Trans-Allegheny Lunatic Asylum, and Farm on Round Top Road, which inspired the movie The Conjuring. The new vodkas are available beginning today in select NYC liquor stores and online for nationwide shipping. They won't last long.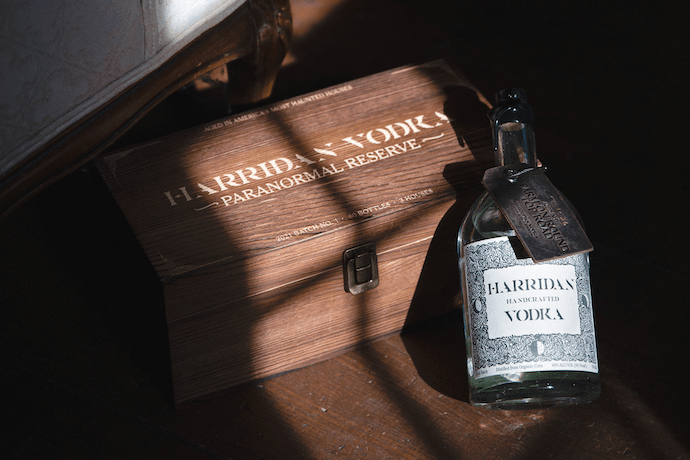 Iowa's Villisca Axe Murders House, the site of a horrifying 1912 murder, is reputedly haunted by the spirits of the victims yearning for justice. The vodka bottles tied to this site were rested in the attic, a scary place even in non-haunted houses.

The Farm on Round Top Road is the site of intense paranormal activity, inspired The Conjuring movies, and once housed the infamous Annabelle doll. The bottles were placed in the most paranormal locations of the house: the seance room, basement, and upstairs bedroom.
The Trans-Allegheny Lunatic Asylum was once filled with 2,400 patients who are rumored to still roam the halls today. The bottles spent a week in the lobotomy room, where as many as 900 people were tragically lobotomized.
Enjoy thinking about that while you make a Martini.
Each bottle is filled with 88-proof spirit, packaged in an engraved wooden box, and adorned with a hand-numbered leather tag indicating in which house it was rested. Bottles also come with information on the history of the respective house and its paranormal activity. Plus gloves for safe handling.
OK, now we're a little scared.