You can do all sorts of things in Vegas.
Many of those things you can't talk about.
But others you can freely divulge, like going to see a Spiegelworld show, such as Absinthe or Opium.
Now, the same group that's brought you eye-popping visuals and crazy-ass acrobatics wants to serve you food and drinks.
You should let them.
Superfrico is a new restaurant from a heavy-hitting team of hospitality pros. The theme is "Italian-American Psychedelic," and you can find out exactly what that means beginning September 24 when it opens inside The Cosmopolitan hotel.
The restaurant promises art and entertainment in an intimate house party atmosphere. As you enjoy that art and entertainment, you'll dive into a creative menu from international pizza czar Anthony Falco, while Executive Chef Mitch Emge runs the kitchen and James Beard Award-winning bartender and beverage consultant Leo Robitschek handles the drinks.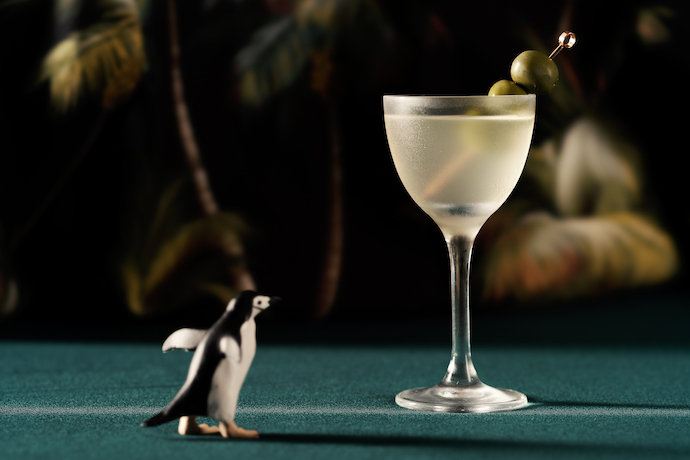 Dishes include a Mortadella Pizza, with sliced pork, house-made stracciatella and Turkish pistachio powder atop an airy crust. The Chicken Parmesan isn't your usual example: It's marinated in ponzu sauce and coated with a mixture of Japanese panko and sourdough breadcrumbs for plenty of umami and tomato flavors. Then there's the over-the-top Bistecca alla Fiorentina, a 48-ounce tomahawk that's been wet-aged in Shio Koji, and the Yuzu Kozo Squid with tangerine honey and charred scallion. You will not go hungry here.
"The menu mirrors the overall Superfrico experience," says Falco. "We're here to blow minds, to transport guests to places they've never been, using flavors inspired by my Sicilian heritage and reinterpreted through a global consciousness."
Drinks are equally inventive. The Under the Host Martini is a Dirty Martini riff featuring a house-made bianco vermouth brine infused with Castelvetrano olive and white balsamic. Penguins Take Manhattan is made with black sesame-infused bourbon, rum, sherry, and Cynar, all served in a white chocolate and sesame-dipped coupe.
"Each and every cocktail has its own psychedelic edge," says Robitschek. His goal in crafting the menu was to open people's minds and get them to more fully experience their senses. So, get on board for some extra flavors, aromas and visuals.
The restaurant is located through the same purple doors that lead to the Opium stage, so you'll wander through an interconnected space with bars, lounges and dining rooms. Performers might swing through the restaurant for an impromptu act, but you might as well catch a full show after dinner.
Provided you're still upright after that 48-ounce steak.