Throughout history, certain events have changed the world as we know it.
Weather events, political events, a certain pandemic.
But none of those incidents tasted quite so good as whiskey.
So it's fortuitous when you happen upon a collection of whiskeys representing the spirits that have shaped the modern world—or at least the modern spirits world.
That's what you have here: the 20 Whiskies That Changed The World Tasting Set from U.K.-based booze powerhouse, The Whisky Exchange.
Whiskey has been around for centuries. But the past few decades have played an especially large role in the spirit's history. Hence, this carefully curated tasting set dives into that recent history and gives you the chance to taste your way through the special spirits that created and shaped modern whiskey.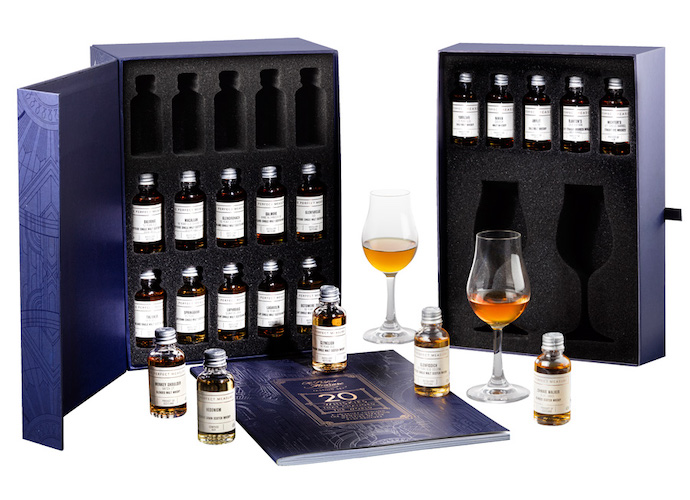 The set contains everything you need to dive in headfirst. Namely, you get 20 whiskeys bottled as one-ounce samples and divided into four themed, scotch-heavy flights, plus a pair of tasting glasses—just in case you want to share—and a tasting book packed with details on each drink.
Those four categories are:
Whisky Revolution: The five whiskeys within kicked off big changes in how we drink and include a couple of bottles that prove well-made blends deserve the same respect as single malts.
Magic of the Cask: Sherry casks, bourbon barrels, unique finishes... These drams represent some of the most important innovations in aging.
Peat Makes the World Go Round: Smoky scotches are now mainstream thanks to boundary-pushing distillers in Islay, Campbeltown and the Isle of Skye. This grouping includes smoky drams from Laphroaig, Octomore and Talisker.
The New World: Scotland isn't the only game in town. Just look to the many groundbreaking whiskeys coming out of America, Japan and India.
Not everything here is rare. In fact, many of the bottles are relatively easy to come by. Rather than stocking the tasting set with whiskeys you can never try again, the idea was to highlight those that made a significant impact on the whiskey world. Macallan 18 helped to popularize sherry cask scotch and premium offerings, while Blanton's Gold is the 103-proof version of the whiskey that helped push single barrel bourbon into the international spotlight.
Clearly you have some important work ahead of you. So clear your schedule, sit down, have a glass of water handy, and taste your way through the lineup.
If anyone asks, you're engaged in a history lesson and shouldn't be bothered.