Making liquor is a pretty straightforward process.
Sure, there are countless ways to customize flavors through raw materials and aging. And there's artistry within the chemistry. And plenty of advancements have occurred over the past several hundred years. But the process of converting those raw materials into alcohol has remained largely the same.
Until recently when Endless West decided to skip everything above and make booze from the molecule up. The company was founded by scientists and sommeliers who joined forces to create spirits that use a fraction of the usual resources, like grains and water.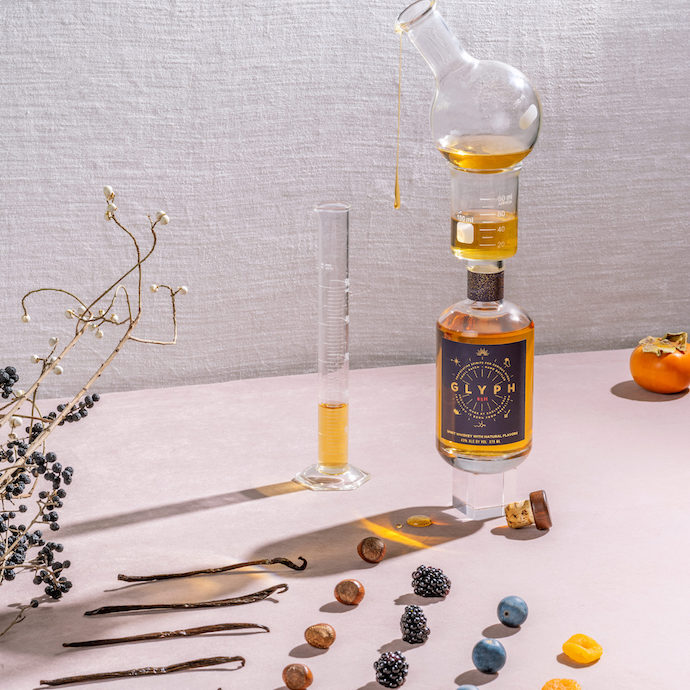 Spirits contain molecules that develop during distillation and aging. These guys skip all that and source similar molecules directly from plants and yeasts, making "spirits" that tastes similar to traditional options, but without ever seeing the inside of a still or a barrel.
Is this blasphemy? Maybe. Should we really care, as long as it tastes good? Hard to say. Does it taste good? Yeah, actually. Their first product earned 14 awards, including a platinum medal at the 2020 SIP Awards.
The company currently offers three spirits.
Glyph Original is what kicked things off. Inspired by Japanese whisky, the pale amber spirit has subtle aromas of vanilla and roasted hazelnuts, plus hints of caramel and honey. The medium-bodied palate brings wood and spice alongside a hint of black fruit before an earthy finish.
Glyph Spice is inspired by American bourbon and described as medium-bodied, with notes of cinnamon bark, cherry, oak spice, toffee, caramel undertones and banana aromas. It is crisp and carries an earthy, savory finish.
Glyph Royal goes a different route, channeling a sherry-aged scotch. It's bold, full-bodied and warm, with notes of coffee, wood, dried fruit, burnt sugar, fig and sherry. There's a light citrus note on the finish.
Endless West also makes a molecular drink inspired by Moscato d'Asti wine and another that mirrors Japanese sake. The former is just 6% ABV, while the latter is 16%, so they're good options when you want a lighter drink.
Somewhere, a whiskey maker's grandpappy is rolling over in his grave.