There are dating apps for farmers, cosplay aficionados and food allergy sufferers.
There's a dating app exclusively for Tesla owners.
There's even a dating app for people who are really into mullets.
So, this new meme-based dating app seems strikingly normal by comparison.
Called Schmooze, it uses the popular swipe-right-or-left method, but instead of swiping on other humans to find love (or whatever), you swipe memes to get matched with people sharing a similar sense of humor. It's live now for iOS and Android.
Schmooze's current catalog has thousands of memes, and more are added each day. Once you sign up and create a profile, you'll be able to view the memes and swipe. The algorithm then builds you a humor profile based on your swipes and matches you with others who share your taste for puns or political jokes, animals or Crying Michael Jordan. Because humor is a better predictor of relationship success than visual cues, like a photo of some guy holding a dog and reading Russian literature. While shirtless.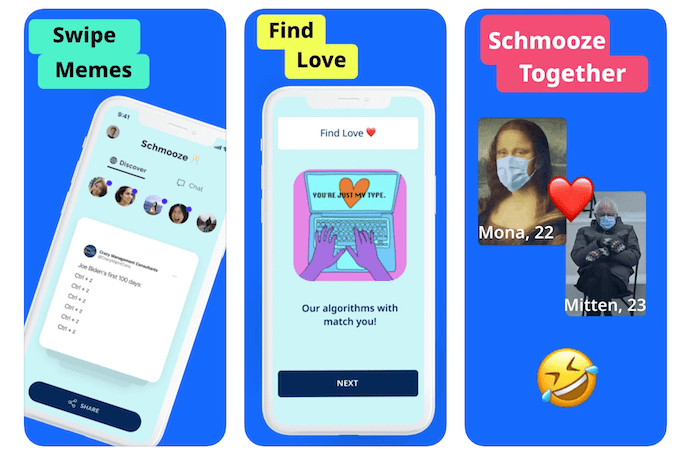 According to TechCrunch, the idea was formed when CEO Vidya Madhavan cold-emailed someone to ask about grad school advice. That exchange turned into a couple hundred long-distance emails, most of them jokes, and eventually led to marriage. Now, she wants to repeat her own success story for others.
By using humor as the app's backbone, Schmooze hopes to reduce the amount of creepy matches you get on the average dating app and increase matches with people you might actually like.
If all goes well, you could find a special someone that just gets you. But at some point, you will probably have to meet up in person or communicate outside of memes.
So classic dating moves like showering and wearing pants aren't dead yet.