We don't know the man, but we're betting your dad enjoys a good drink.
If that is correct, you might want to consider giving him a bottle of scotch.
If that is incorrect, you might consider giving him a tie, or something, and giving yourself a bottle of scotch—for Father's Day or just because.
In either case, we know a bottle.
Lagavulin Offerman Edition: Guinness Cask Finish is the new single malt from the Islay-located scotch whisky distiller and the bearded actor best known for playing Ron Swanson in "Parks and Rec." It's available now at select retailers and online.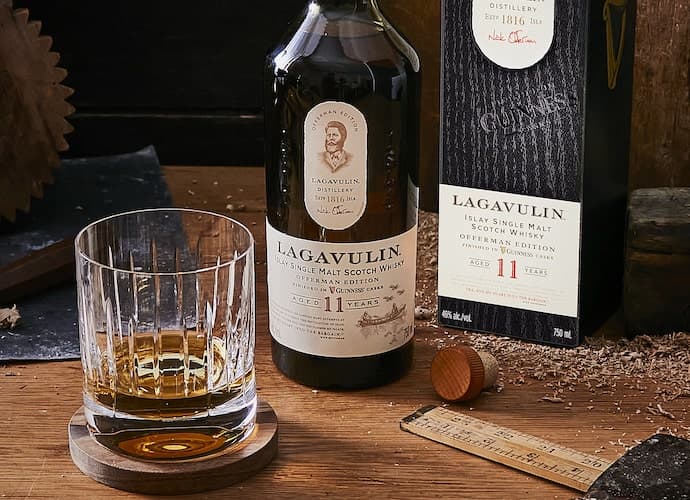 Inside the bottle, you'll find an 11-year-old scotch that's been finished for four extra months in barrels that previously held Guinness beer. That fun combo results in Lagavulin's trademark peat and charred wood notes mingling with the roasted coffee, dark chocolate and sweet caramel notes imparted by the beer casks. It's all wrapped up with hints of red berries and green apple.
This is the second release from Nick Offerman and Lagavulin following the launch of Lagavulin Offerman Edition Aged 11 Years in October 2019.
Joining the new whisky is a video featuring Offerman and his dad enjoying a drink at a bar. If you, too, want to enjoy a drink with your dad, you might consider making it this one.
"The opportunity to collaborate on this truly sublime, smoky giggle-juice renews my gratitude for the simple things in life, like a father's love, and the good manners he taught me," says Offerman.
Smoky giggle-juice...
Hopefully your dad is not a serious man.