The secondary sneaker market is booming.
Reseller transactions account for billions of dollars each year, and even auction houses are getting in the game.
With so many limited-release kicks up for grabs, many enthusiasts have turned to trades in order to get their hands on coveted shoes.
Tradeblock is a new sneaker trading platform that lets you list your collection and browse other peoples' collections for the chief purpose of trading among users. The startup has been in beta mode since being founded last year, but they just launched their app for iOS and Android, so now you can sign up and join in.
Once you download the app, you can create your profile, upload your sneakers to a digital closet and create a wish list of sneakers you want. Getting a glimpse into users' closets and wish lists helps you identify potential trade partners.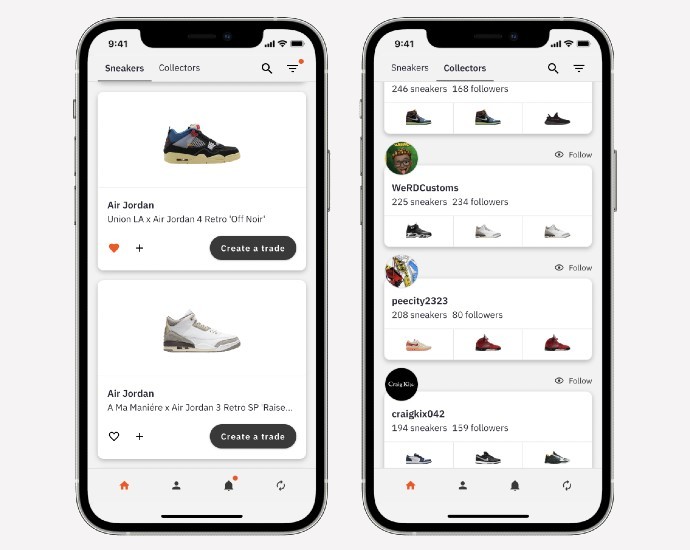 "Sneakerheads have been trading kicks with each other since the first Jordan 1s dropped in 1985," says co-founder and CEO Mbiyimoh Ghogomu. But despite the emergence of multiple marketplaces over the past few years, he noticed that nobody had honed in on the trading economy or combined commerce with community. So that's the gap he and his partners set out to fill, creating what is essentially a trade-focused social network for sneakerheads.
Tradeblock already has more than 18,000 users and averages about 2,000 trade offers weekly, so you'll have a lot of opportunities to get involved. When scrolling through the app, you can see the supply and demand for each shoe. View all available inventory by size, see who has what you're looking for, and take note of who wants what you have.
The most owned shoes in the app are the Jordan 1 Dark Mocha, featured in more than 1,500 Tradeblock closets, while the Adidas Yeezy Boost 350 V2 Bred sits in more than 850 closets. The Travis Scott x Jordan 1 High Mocha is on more than 600 wish lists, so if you're currently sitting on a pair, you'll be popular.
When you are ready to make a trade, you'll do so directly through the platform. You can trade one for one, or throw in an extra pair of shoes or even some cash to seal a deal. When a trade gets confirmed, both parties will print out shipping labels and send their sneakers to an authentication center for inspection. After the company authenticates that all sneakers involved in the deal are legit, they will then send the shoes to the respective users. This takes away the counterfeit risk and provides an extra level of security to each trade. So you don't have to worry about trading for a pair of fake Nikes.

Or a Beezy Yoost.